Fumbled!
NFL Playoffs Are Just Dismal Viewing
Viewership is down again, but rights are still prized.
By and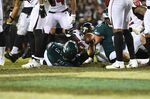 CBS CORP-CLASS B NON VOTING
-1.35
At Closing, February 16th
This year's NFL playoffs haven't made easy watching for the big media owners of sports television rights. Last weekend's divisional games followed the same dismal pattern as the season, with viewership declines across the board -- some of them pretty spectacular:

Whether you blame lack of millennial interest, the fragmentation of the TV landscape or too many games and the kneeling controversy, the viewing picture is bleak. Broadcasting execs had hoped that last season's 8 percent drop in regular season audiences for major games was explained in part by all the competing excitement around Donald Trump's election. An 11 percent slump this time around suggests they were wrong:

That's not to say that the big broadcasters ESPN, DirectTV, CBS, Fox and NBC will be directing their resources elsewhere. Their deals run mostly until 2021 or 2022. Even if they had the choice, they'd no doubt keep spending to televise games. As our excellent colleagues at Bloomberg Intelligence point out, the NFL remains an advertising juggernaut. Football viewing may be shrinking, but it's still by far the biggest draw for live TV -- where the most lucrative ad spots lurk.

Take 21st Century Fox Inc. and the Thursday night game. Chief executive James Murdoch has blamed the Thursday match-ups for the declines in overall TV viewership, saying the market has become saturated. But he's still submitted a serious bid for the Thursday-night package, which is up for renewal. Last season's rights holders CBS and NBC aim to pay less this time, according to Bloomberg News.
The Murdochs are an interesting case. If the sale of much of Fox to Walt Disney Co. ends up happening, Rupert and co. will be pretty much totally focused on news and sport. That adds to the importance of winning and holding on to rights.
Declining viewership has also bedeviled the family's other prize sports rights package, English soccer's Premier League, on whose back the success of Murdoch-controlled Sky Plc was built.
Sky may end up owned by Disney, but in the meantime it too is having to ponder on how much to bid for the next package of Premier League TV rights, after forking out a record 4.2 billion pounds ($5.8 billion) last time. Some analysts reckon it will have to pay up again amid interest from Amazon.com Inc., which may be a rival for those NFL Thursday night games too.
Both the NFL and Premier League are counting on the digital giants to keep the gravy train rolling, even if they offer smaller audiences.
While the disappearing TV viewer is a genuine fear for both types of football, it might be too early to call time on sports rights inflation.
To contact the editor responsible for this story:
Beth Williams at bewilliams@bloomberg.net
Before it's here, it's on the Bloomberg Terminal.
LEARN MORE