Teamwork
OPEC's Casual Relationship With Hedge Funds
Oil speculators are helping the cartel, but at a price.
By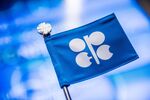 OPEC has a complicated relationship with hedge funds.
Historically, the oil exporters' club routinely blamed "speculators" for moving oil prices too far this way or that relative to fundamental supply and demand. Let's breeze past the irony of an organization artificially restricting supply bemoaning others for interfering with the purity of the price-setting mechanism. Instead, let's recognize OPEC is getting a helping hand from hedge funds -- albeit one that comes at a price.
Speculative positions in crude oil have soared in recent months, with net length in two of the biggest contracts topping a notional 1 billion barrels last week:
The surge in speculative flows has fueled a rally taking West Texas Intermediate crude oil from about $45 a barrel in July to almost $64 today. This relationship make sense, and the chart below, adapted from one published in a recent report by Bank of America Merrill Lynch, shows it has held over time:

The scatter chart above shows the year-over-year change in both managed money net positions in WTI futures and options and the price of the front-month contract, each week for the past five years. The correlation coefficient is about 0.8 (where 1.0 indicates perfect correlation), with a coefficient of determination (the "r-squared" value) of about 0.63. These both point to a close relationship, even including the figures for 2015 -- highlighted in the chart -- where the steep price decline in the first year of the oil crash results in a distinct set of data points.
In adding almost $20 to the front-month price, the recent rally has also flipped the shape of the futures curve, taking near-term prices to a premium versus longer-dated oil for the first time since late 2014, when the crash began:
OPEC, even if it may not say so, is grateful.
Any oil producer loves a higher price, of course. Just as important for OPEC is that futures-curve flip. Its members sell the majority of their exports in the spot market. So higher-near dated prices mean more cash both in absolute terms and relative to rival producers that hedge their risk by selling futures. No prizes for guessing that those happen to be the North American shale producers who make extensive use of hedging to grow production and represent the biggest threat to higher prices, especially this year.
The shape of the curve has an added bonus when it comes to speculative money: It's somewhat self-perpetuating. When the curve slopes downward, like today, investors buying futures and then rolling those positions forward as they mature earn a little extra: the "roll yield". For example, a strategy of buying the 2nd-month Brent futures contract and rolling it forward just before expiration from May 1994 to the end of 2017 would have earned an annualized return of 7 percent, according to a recent report from Morgan Stanley (the same principle holds for WTI).
For now, there is little to dent speculators' faith that the curve will hold and, maybe, spot prices will rise further. Economic growth is strong, winter weather has spurred diesel demand -- and, of course, OPEC is doing its part.
As speculators buy, however, producers are selling. Exuberance, in this way, enables the hedging that is spurring higher production in the shale patch. If estimates of U.S. production this year start getting revised up, and the usual seasonal lull in demand hits in the second quarter, then it could shake faith in OPEC's ability to keep draining inventories. Already on Thursday, OPEC raised its estimate for U.S. output this year. The International Energy Agency may well do the same when it publishes its own report on Friday.
And with the market this long, faith is the most precious commodity of all. Look back at that chart of net length and see how volatile it's been, even in just the past 12 months. Then look at the scatter-plot and see what an unwinding usually means for prices.
OPEC's dilemma hasn't gone away. Spurring higher prices brings in more revenue -- but also brings more money into the market and spurs more activity by rival shale producers. The oil-futures market, which got going in the early 1980s, generally works against those seeking to set oil prices by fiat. For OPEC, symbiosis with speculators is an unnatural state of affairs.
-- "Speculation Correlation" chart by Hannah Recht 
To contact the editor responsible for this story:
Mark Gongloff at mgongloff1@bloomberg.net
Before it's here, it's on the Bloomberg Terminal.
LEARN MORE