Getting Together
Bad News If You Make Conference Goodie Bags
Informa's takeover of UBM looks pricey, given it will probably have to rely on boosting revenue.
By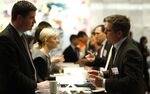 UBM PLC
+1.00
As of 11:29 AM EST
INFORMA PLC
-2.20
As of 11:29 AM EST
Conferences can often seem deeply repetitive. The same goes for takeovers in the industry. British events organizer Informa Plc said on Tuesday it's having a go at buying rival UBM Plc, a decade after merger talks between the two broke down.
The attraction is the chance to plug gaps in each other's programs and global footprint -- and have a shot at challenging Relx Group Plc's claim to be the world's leading events company.
The financial benefits, though, are unlikely to be enough for Informa to justify paying a big takeover premium for its smaller peer. 
The events business has been growing nicely in recent years. People still want to pay for face-to-face networking. Compared with other parts of the troubled media business, conferences look pretty resilient. Informa and UBM have big operations in the U.S. but broadly complimentary businesses in the Middle East and Asia.
There would be the inevitable cost savings from closing a headquarters, eliminating duplicate back-office functions and increasing purchasing power -- bad news for suppliers of vol-au-vents and conference goodies like biros and key rings.
But these gains alone might not be enough to justify the operational and financial risk of a transaction -- especially one where the payment would be in cash as well as Informa shares. The aspiring purchaser's net debt was a high 3.8 times Ebitda at the half-year.
The greater prize is in the chance to capture a bigger share of the market through broader global reach and an enlarged periodicals empire. In turn, more events mean gathering more customer data -- a source of potential additional income. The snag is investors like to see these revenue gains before they believe them.
The companies have provisionally agreed on a cash and stock offer worth about 972.5 pence per UBM share, based on Informa's Jan. 16 price. That represents a premium of just over 30 percent on UBM's volume-weighted average share price over the last three months, the standard takeover uplift. The proposal is worth 3.8 billion pounds for the equity.
Include assumed net debt and the figure rises to 4.4 billion pounds, a punchy 15 times estimated Ebitda for this year. The synergies to support this valuation haven't been revealed -- other than that they are "significant". They will need to be. 
UBM is expected to generate about 315 million pounds of operating profit in 2020. Deduct tax, and the returns on a deal would need a boost from savings and revenue gains to get into the high single digits -- about as appealing as most conference catering.
With markets strong, investors probably prefer visionary deals to boring cost-cutting combinations right now. This get-together risks falling between both stools.
To contact the editor responsible for this story:
Edward Evans at eevans3@bloomberg.net
Before it's here, it's on the Bloomberg Terminal.
LEARN MORE