Pining for Returns
Norway's Wealth Fund Is Late to a Party It Should Skip
Jumping on the private equity bandwagon is unlikely to enhance returns.
By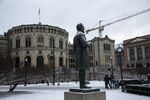 Norway's sovereign wealth fund wants approval to invest some of its $1 trillion of assets in unlisted companies. If the finance ministry assents, the fund will enter an asset class that's already overcrowded, expensive and complicated to manage, and which seems unlikely to boost returns.
The private equity market has grown by about 10 percent annually since 2005 to reach $2.5 trillion in assets under management, according to a November study that the Norwegian finance ministry commissioned from McKinsey & Co. Most other sovereign wealth funds, as well as large pension funds, already invest in the sector, the study said.
They are, however, struggling to find homes for the capital they want to allocate. McKinsey calculates that on average, sovereign funds have more than doubled their allocation to private equity to 8.5 percent of assets from just 4 percent in 2000; yet the median fund is still 4.2 percentage points shy of its target.
Singapore's sovereign wealth fund GIC Pte, for example, had about 9 percent of its assets in private equity in 2016, less than its target allocation of between 11 percent and 15 percent, McKinsey said.
Private equity funds are, in turn, facing a struggle to spend all the money they've raised, something that threatens to depress returns. Globally, the firms raised a record $453 billion in 2017, boosting the total not yet invested to more than $1 trillion, according to figures compiled by alternative asset data company Preqin Ltd.
"With so much available capital competing for deals, this will only increase the challenge for fund managers looking to deploy capital in 2018," Preqin said in a press release this month.
The McKinsey report points out that measuring private equity performance is "challenging" at best because "the industry, as the name suggests, is private and available data is limited." What numbers there are may be biased, and calculating risk-adjusted returns is more of an art than a science. Even the data McKinsey does refer to suggest the best juice may have already been squeezed out, particularly in early-stage venture capital.
Others concur. Ted Eliopoulos, chief investment officer for the California Public Employees' Retirement System, has said he expects returns from private equity to shrink as competition for deals increases and valuations rise. Calpers, which oversees more than $350 billion, has built a $40 billion private equity portfolio. 
Then there are the costs of investing in the asset class: the funds all charge fees and take a cut of any profits. Norway could seek to cut out the middle man and invest in private companies directly. But that requires recruiting an in-house team with the skills to analyze private companies and the industries they operate in. 
Don't expect, then, that Norway will be able put all its money to work. Look at its track record in private real estate: at $7 trillion, it's a market that's three times bigger than private equity, according to McKinsey. Yet Norway has failed to meet its allocation goal for real estate since getting permission to add the asset class in 2010. It has about 2.5 percent of its assets in real estate, half of its target.
Moreover, the sheer size of the Norwegian fund -- its assets are almost three times the nation's annual gross domestic product -- makes it hard to boost returns by adding new asset classes. When even the fund's CEO plays down the importance of investing in private equity or infrastructure, it does prompt the question: why climb onto a crowded bandwagon in the first place?
To contact the editor responsible for this story:
Edward Evans at eevans3@bloomberg.net
Before it's here, it's on the Bloomberg Terminal.
LEARN MORE