Flop Secret
Mr. Cook, Bring Back Apple's Most Important Financial Metric
The company used to say how many iPhone customers returned, but it doesn't anymore. Pity.
By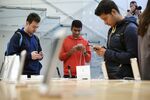 APPLE INC
-1.26
As of 10:34 AM EST
Permit me to nerd out on an essential barometer of Apple Inc.'s financial health that the company should revive, but likely won't.
That metric is the share of iPhone owners who buy one of Apple's latest models -- this year, the iPhone 8 line and the iPhone X. In the glory days of Apple's iPhone 6 sales boom beginning in late 2014, the company regularly disclosed the percentage of iPhone owners who made a repeat purchase. The figures spotlighted both how loyal iPhone fans were, and how much more sales growth was left.
That was then. For the last two years, Apple has kept this information to itself. If the company wants to show there's still plenty of life left in its biggest product, it should bring back this upgrade disclosure.
Why? There are three sources of iPhone sales: people who have never owned a smartphone, folks with Android or other smartphones who are switching, and those who already own an iPhone and are buying a newer one.
Last year, Sanford C. Bernstein & Co. analyst Toni Sacconaghi estimated that about 81 percent of iPhone unit sales would come from that third bucket. That makes sales to existing iPhone owners the most important metric to watch as attention turns in a few weeks to the results of the iPhone X launch from late last year. 
At this point three years ago, Chief Executive Officer Tim Cook said a "mid-teens or barely in the teens" percentage of active iPhone users as of September 2014 had purchased one of the new iPhone 6 models. That rate of upgrades hit about 40 percent for the quarter that ended in December 2015, more than a year after the iPhone 6 models hit store shelves.
Apple stopped giving a specific upgrade percentage in early 2016, although Cook later acknowledged the iPhone 6 repeat purchaser rate was an aberration. As he told CNBC in May 2016, "We had this abnormally high upgrade rate last year as people bought into the iPhone 6."
For investors, the upgrade rate remains a yardstick against which all iPhone product cycles are measured. Sacconaghi estimated about 36 percent of active iPhone users before the iPhone 6 product cycle purchased one of the new models after 2014, and that rate fell to about 26 percent in the first year of the iPhone 7.
That gap helps explain why iPhone sales fell for the first time in Apple's fiscal year ended September 2016, and eked out only a small gain in the following 12 months. To fulfill investors' hopes for an iPhone growth bump this year, Apple needs upgraders to pony up.
Even if Apple never rebounds to 2015 levels of repeat purchases for the iPhone 8 and iPhone X models, the company can still grow. There are far more iPhones in the wild these days, which means even if the repeat rate declines the absolute number of iPhones sold to returning buyers will still increase. The prices of iPhones also are rising, which should lift revenue even if Apple doesn't sell many more phones than it did last year. 
But the question is not only whether Apple can continue to grow and how quickly, but whether the company has appropriately set growth expectations both internally and externally. By Cook's own admission, the company was caught off guard when the rate of iPhone repeat buyers dipped after the iPhone 6 product cycle. It was a stunning flub that made me question whether Apple was capable of accurately forecasting its own (admittedly very complex) business. 
But I've said this before and I'll say it again: The most important constituency is the people already on Team iPhone. Apple needs to give those people reasons to ditch what might be perfectly serviceable phones for something new. And investors won't know if Apple succeeded until it brings back my favorite barometer.
A version of this column originally appeared in Bloomberg's Fully Charged technology newsletter. You can sign up here.
To contact the editor responsible for this story:
Daniel Moss at dmoss@bloomberg.net
Before it's here, it's on the Bloomberg Terminal.
LEARN MORE