Bondageddon? Maybe.
Gundlach May Be Right. His Timing's Another Matter
It's too soon to say if today is the day the bond market dies.
By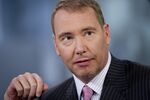 Hold your horses, Jeff.
Dire warnings from bond market legends Jeff Gundlach and Bill Gross that the decades-long march down in bond yields is over has prompted something of a global sell-off. The U.S. Treasury 10-year note yield broke through 2.5 percent, and much hand-wringing ensued.
There's some sense to this. The big buyers of the bond market -- the central banks -- are pulling back. The pace is different in different countries, but the direction of travel is still roughly the same. On top of that, a great flood of supply is coming all at once across all major markets -- not to mention, according to J.P. Morgan Chase & Co., a massive $1.3 trillion of new Treasury issuance over the course of 2018. So it looks as if the balance between government supply and investor demand is finally shifting. 
That will happen. But it's far too soon to say that today's the day the great bond bull market has ended. 
Some of the cries of bondageddon stem from a misunderstanding of central bank actions. One catalyst cited was the Bank of Japan's reductions in its bond buyback program, known as Rinbans. This came ahead of a 10-year auction Wednesday and a 40-year auction Friday. But the BoJ is not sending any tapering signals here -- only 10 billion yen ($90 million) was trimmed from each of the 10 to 25-year and 25-year plus buckets. With less issuance from the Ministry of Finance, the BoJ just does not need to buy back as many bonds. 
Much more important for its rate management to reach its inflation target of 2 percent is the yield curve control on 10-year yields. The BOJ cites a zero yield target, and defends the 10 basis point level. Now that 10-year yields are again rising close to this level, the BoJ could act at any time. Furthermore, with 40-year yields back above 1 percent, strong demand at Friday's auction could push yields down across the board and even allow the BOJ to just sit on the sidelines. Either way, the pickup in yields doesn't have to last.
Adding to the bear case today is a report that Chinese officials may rein in purchases of U.S. Treasury bonds due to trade tensions and changes to its currency flow management. This is the dog that often barks but rarely bites -- the last time fears about China's purchases were a hot topic it later transpired that Chinese purchases actually rose.
And then there is supply. Wednesday sees a $20 billion 10-year U.S Treasury auction and a $12 billion 30-year auction Thursday, followed by inflation data on Friday, for good measure. Europe also has a welter of sovereign issuance, including 5 billion euros of 10-year German bunds Wednesday. Multi-billion syndicated deals have also been announced from Portugal in 10-years and Italy in 20-years. Demand looks very strong, with over 40 billion euros ($48 billion) of combined orders. 
The U.K. has a 20-year auction Thursday and Italy comes with regular auction issuance in 3 and 7-years as well. Belgium and Spain may well announce large syndicated deals next week.
Once the dust has settled from this busy supply week then it will be time to monitor closely this pickup in Treasury yields from the 10-year's low yield of 1.36 percent in July 2016. We are just a few basis points below last year's high of 2.63 percent. It doesn't make sense to sound major alarm bells before that gets breached. 
Even if it does, the real key is not the 10-year, but the 30-year, and more specifically the shape of the yield curve. Long end yields have been impervious to repeated Federal Reserve rate hikes. 
The U.S. Treasury yield curve has flattened steadily in recent years from wides of 364 basis points in December 2013 to a low of 95 basis points now. To have less than one full percentage point difference in yields between two years and 30-years would normally be a precursor to recession.
Only when the yield curve starts steepening to a more normal shape, reflective of a strong economy, can we start talking about the end of the great bond bull trend.
That conversation has seen the light of day off and on for the last few years. But there are contrarian opinions. For instance, Albert Edwards, strategist at Societe Generale, says yields could even turn negative, sticking to an argument he's been making for years.
At the start of 2018, there's no shortage of developments to bolster the bear case. But it makes sense to take a deep breath. For instance, a Brookings Institution report this week questioning whether the Federal Reserve should abandon its 2 percent inflation target is fanning the flames of the rout. But until Janet Yellen or Jerome Powell actually declare the target dead, there's no reason to treat it as fact.
Is this time different? Maybe. But the market has a fair amount of issues to work through until we can say the end is no longer nigh, but here.
To contact the editor responsible for this story:
Jennifer Ryan at jryan13@bloomberg.net
Before it's here, it's on the Bloomberg Terminal.
LEARN MORE