Smothered
It's a Record Year for Natural Gas. Yay?
Adding roughly the output of Turkmenistan in one year won't help prices.
By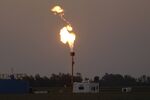 The Energy Information Administration's latest short-term outlook, published on Tuesday, had an eye-catching prediction: U.S. oil output in 2018 would hit its highest level ever.
But this column isn't about that. 1
Instead, let's look at another record being broken: U.S. natural gas production.
That 68 percent increase since 2005 is pretty remarkable on its own. What isn't clear from that chart is just how big a year 2018 is expected to be. Here's the same data, but showing the change each year:
That extra 6.9 billion cubic feet of gas production expected in 2018 is like the U.S. adding the entire output of Turkmenistan -- one of the world's largest gas exporters -- in the space of just one year.
Two big reasons for this are logistics and oil. Pipelines able to carry roughly 7 billion cubic feet of gas a day away from the prolific Appalachian region are due to start up this year, allowing production that's been bottled up in the East to flood out. Meanwhile, rising oil production in the Permian shale basin and elsewhere will bring increased quantities of associated gas.
I wrote last week about how gas prices were strangely subdued despite the bitter cold gripping large parts of the U.S. These projections are a big reason. It is notable that the EIA's numbers incorporate estimates for lower gas prices this year and next compared to 2017. The cost structure of U.S. gas production has changed fundamentally.
The structure of supply and demand has also changed fundamentally, and in tandem. In the first decade of this century, the U.S. was short of about 9 billion cubic feet a day of gas, on average, relative to its consumption. Imports made up the difference. The latest projection from the EIA shows that this has almost entirely flipped:
Growing exports of gas, via pipelines to Mexico and, increasingly, shipped as a liquid on tankers, are the one bright spot in the market today. Just as new pipelines spreading out from the eastern U.S. will allow Appalachian producers to tap into higher prices, so foreign markets will provide a relatively small, but vital and growing, outlet for the country's excess supply overall. Similarly, U.S. oil producers got some relief when restrictions on crude exports were lifted in late 2015.
It won't be enough to lift the market any time soon, and producers in regions prone to bottlenecks -- such as in the Permian basin and in Alberta -- could be in for some severe discounts. On the other hand, that's good news for anyone in the somewhat battered business of building and operating pipelines to ease those bottlenecks and move all those molecules, such as The Williams Cos. Inc. or Targa Resources Corp.
For now, the export valve operates as more of a floor than an elevator when it comes to gas. In theory, linking higher global gas prices more directly to the U.S. market should lift domestic prices eventually. Equally, though, bear in mind that once you get above $5.50 per million BTU for U.S. gas, margins on cargoes shipped to almost anywhere but competitive Asian markets start to look pretty thin.
Of course, many U.S. gas producers would pledge their soul to get $5.50 for their gas these days. The problem is, with the number of rigs drilling for gas now less than half where it was five years ago -- and roughly a tenth where it was a decade ago -- those same producers would crank up drilling long before that happened.
This column is about rising U.S. oil production, though, if that's what you're into.
To contact the editor responsible for this story:
Mark Gongloff at mgongloff1@bloomberg.net
Before it's here, it's on the Bloomberg Terminal.
LEARN MORE