Action-Packed
A PUBG-Level IPO Battle
YY Inc. is also planning to list one of its units.
By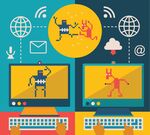 YY INC-ADR
+2.18
At Closing, January 19th
The ink is barely dry on news that YY Inc. plans to list its gaming-streaming unit, and now there's a fresh report about another possible share sale.
Douyu, a VC-funded company in China that streams video of people playing games, is planning to raise $300 million to $400 million in Hong Kong, IFRAsia reported Tuesday. If true, that would make at least two Chinese e-sports IPOs this year.
Backed by Tencent Holdings Ltd., Sequoia Capital and Phoenix Capital, Wuhan Douyu Network Technology Co. is similar to YY's Huya. A quick glance at their homepages shows just how similar. That's not to say either is a copy of the other -- in fact they both resemble Twitch, the U.S. game-streaming outfit bought by Amazon.com Inc. in 2014 for almost $1 billion.
It's quite likely Douyu is worth a lot more than $1 billion. It's already raised north of $500 million, according to Crunchbase. Marbridge, a Chinese consultancy, reports that funding has actually hit $2 billion, while Deloitte LLP named Douyu the fastest-growing tech company in Asia Pacific for 2017, with 70,776 percent revenue growth over the past three years.
Last week I argued that YY's game-streaming business has the potential to be far more profitable than its live-performer unit (with a few caveats). With Douyu now exploring an IPO, 2018 could shape up to be a great year for companies in this space.
It will also be fascinating to compare the duo's financials to see any differences in structure and strategy.
For the finance geeks among us, a battle between the two IPOs will be almost as exciting as a few rounds of PUBG.
To contact the editor responsible for this story:
Katrina Nicholas at knicholas2@bloomberg.net
Before it's here, it's on the Bloomberg Terminal.
LEARN MORE