Big Fat F
Beijing's Yuan Ambitions Look Dashed
Liquidity is one reason China's currency hasn't gone further on the world stage.
By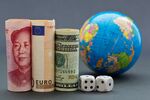 As 2018 gets underway, China seems to be on top again. The yuan has strengthened 6.8 percent against the dollar over the past 12 months and foreign-exchange reserves are growing.
Not so fast.
Remember November 2015, when the International Monetary Fund -- with some fanfare -- agreed to add the yuan to its prestigious special drawing rights currency basket. Talk then was of the yuan one day becoming one of the world's reserve currencies, perhaps even rivaling the dollar.
Two years on and central banks aren't buying the notion. Although China's currency has a weight of more than 10 percent in the SDR basket, which gives equal importance to a country's trade status and balance-sheet metrics, just 1.1 percent of the world's forex reserves were held in yuan versus 63 percent in dollars as of the third quarter.
It's understandable that central banks have been shying away from the euro. German two-year bunds have been offering a negative yield since mid-2014. But why the yuan? China's short-dated government notes offer among the best interest rates:
Part of the explanation is liquidity. According to the Bank of International Settlements, in 2016, the yuan constituted only 4 percent of the world's currency trades. The dollar, through pairs with the euro and the yen, accounted for 88 percent of transactions.
Then there's the question of time. It could be decades before any currency, yuan or bitcoin, replaces the greenback.
But China itself is also to blame. It seems to have abandoned its great yuan ambitions.
What happened to the dim sum bond market? The Chinese government, along with policy banks, sold fewer than $3 billion of offshore yuan notes last year, a sharp pullback from 2016 and 2015. And oddly, last October, China sold its first sovereign dollar debenture since 2004 -- a move that was widely interpreted as Beijing wishing to develop a vibrant international bond market for its state-owned enterprises.
The panda bond market, where foreign companies raise yuan onshore, is also going nowhere. Hungary had a small, 1 billion yuan ($154 million) issue in July, while the Philippines keeps delaying its plans. China has also hit the pause button on the idea of trading oil in yuan.
The beauty of being a reserve currency is that foreigners want to pile into your debt, regardless of how your balance sheet looks. In the U.S., international investors own $6.3 trillion of government debt, with China the most enthusiastic buyer. That robust demand helps keep U.S. yields low.
China is currently going through a lengthy bond rout, but since the yuan isn't the dollar, foreigners are steering clear.
China does have one boast: Its currency will be used for trade with Pakistan. But even the nation's hordes of tourists don't visit that country.
To contact the editor responsible for this story:
Katrina Nicholas at knicholas2@bloomberg.net
Before it's here, it's on the Bloomberg Terminal.
LEARN MORE