Numbing
The Bomb Cyclone Breezes Into the Gas Market
Nasty weather is boosting prices in the short term, but longer-dated futures are frozen in place.
By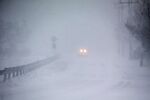 Natural gas is a miserable market, and not just because prices have collapsed over the past decade. It's a market that thrives on your misery and discomfort: Prices spike when you're cranking up the air conditioning to stave off a muggy summer and also when you're shivering in the depths of winter.
Right now, as you may be experiencing, is a robust example of the latter:
Regional gas prices, like that spiky one there on the Algonquin pipeline heading into Boston, tend to jump around during bombcyclonesnowapocalypse moments like this one.
Even so, it's odd that the benchmark gas price on the chart is so flat. Sure, the price has jumped 14 percent since Christmas, which is obscured by the scale, but that just means it has scraped back above $3 per million BTU.
This looks even stranger when you chart the movement in gas futures versus "heating degree days". These are calculated by the National Oceanic and Atmospheric Administration to measure how cold it is (see this for an explanation). The higher the reading, the colder it is.
It is striking how listless gas prices are relative to what happened in early 2014, when most of us first heard the dreaded phrase "polar vortex". This is evident not just in benchmark futures but also those more volatile regional prices: Gas commanded more than $80 per million BTU back then, versus about $34 today.
This isn't because there's a glut of gas in storage. Data released Thursday by the Energy Information Administration show inventories ended last week about 6 percent below the seasonal average, and there will certainly be further big draws from storage this week.
Instead, the gas price may reflect numbness; a deadening of the soul rather than your toes, in this case.
A clue can be found in the futures curve. Here's the benchmark price for February and averages for the first quarter and the next three years, as they are today and about two weeks ago:
Fracking upended the U.S. natural gas market before it moved into oil. Rising output, even with prices at sub-$2 levels at times, has for years defied predictions of a sustained rebalancing and rally. Gas producers just seem able to live with it and are expected to respond with more supply if prices invite it.
This is why, even if cold causes a spike in near-term prices, they remain fixed around $3 further out.
A similar phenomenon has been seen in crude oil prices. A combination of cold weather and rising risks in the cold war between Saudi Arabia and Iran, plus the continuing OPEC supply cuts, have pushed near-term Nymex futures above $60 a barrel. Yet it's amazing that all those tailwinds have gotten prices only to about $60, while longer-term futures remain fixed around oil's own apparently magic number, roughly $50 a barrel.
If the cold snap continues (or we get several more), then gas should see some more near-term gains. Yet there are big obstacles to a sustained 2018 rally, in the form of associated gas from oil drilling and the connection of pipelines allowing more cheap Appalachian gas to enter the wider market.
Even as you stare out at a blizzard today, spare a thought for those gas bulls. For them, this time of year has long felt like Narnia: always winter but never Christmas. 
To contact the editor responsible for this story:
Mark Gongloff at mgongloff1@bloomberg.net
Before it's here, it's on the Bloomberg Terminal.
LEARN MORE