Pedal to the Mettle
Time for Jack Ma to Step Up
This Plan B with MoneyGram isn't the one Alibaba's founder needs.
By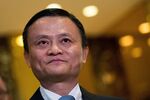 MONEYGRAM INTERNATIONAL INC
+0.01
As of 9:30 AM EST
I guess a handshake with POTUS-to-be wasn't a help after all.
A year after Chinese billionaire Jack Ma met with U.S. President-elect Donald Trump, the founder of Alibaba Group Holding Ltd. has finally given up on his bid to buy MoneyGram International Inc. for $18 per share.
The Committee on Foreign Investment in the U.S. dragged its feet on giving the thumbs up to Ant Financial's takeover, but bear in mind it's not their call. An actual decision is made by the president, based on the recommendation of CFIUS. Trump has shown a willingness to ignore advice in the past, so Ma was probably hoping that trend would continue.
Trump himself played up the prospect of Alibaba creating a million U.S. jobs, the kind of guanxi Ma figured should garner some favors in Washington. In truth, that one million jobs figure was the result of some very creative mathematics by Alibaba.
By September, I was predicting the transaction would fail, and that Ma should give up. What he should have been doing over the past few months was preparing a Plan B. And don't be surprised if such an alternative does get announced.
Ma wanted MoneyGram to help connect consumer markets in the U.S. and China. Now, instead of a takeover, the two plan to: 
"Explore and develop initiatives to bring together capabilities in remittance and digital payments to provide respective customers with user-friendly, rapid-response and low-cost money transfer services."
Frankly, that sounds like a placeholder comment whipped up by a committee of public relations executives. It's buzzword-heavy and meaningless. But since Ant is a private company, it doesn't have to worry about keeping shareholders happy.
MoneyGram, on the other hand, might want to hope that Euronet Worldwide Inc. follows through on its marriage proposal. The Leawood, Kansas-based rival hinted as much just hours after the Ant-MoneyGram announcement.
I don't think that this "explore and develop" proposal with MoneyGram is the Plan B Ma needs to make it in the U.S. payments industry. He'd do better building out the business himself. Spreading Alipay to U.S. stores is a good first step, but that merely caters to Chinese shoppers.
A locally built payments platform with its own brand and U.S. leadership may be a better bet. Ma could model it on Alipay if he wants, but he would do well to make it for Americans, by Americans. To date, Alibaba's forays in the West have gone nowhere and I don't think the company has really tried that hard despite all the public pronouncements.
With the failure of this deal, it's time for Ma to show the grit he's renowned for, and prove he's really serious about coming to America.
To contact the editor responsible for this story:
Katrina Nicholas at knicholas2@bloomberg.net
Before it's here, it's on the Bloomberg Terminal.
LEARN MORE