M&Aybe Not
A 2018 Pharma Deal Revival Is No Sure Thing
The case for deals is even stronger this year than last, but lethargy may prevail again.
By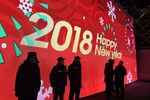 JOHNSON & JOHNSON
-2.28
At Closing, February 20st
Well, my prediction a year ago that biopharma M&A would rebound in 2017 didn't quite pan out.
Last year was the sector's third straight year of sequential deal-volume decline and the slowest since 2013. And the $95 billion deal total for the year is a little flattering -- 31 percent of that came from Johnson & Johnson's purchase of Actelion. 
The good news is that most of the potential M&A drivers I mentioned last year are still intact. There's a lot of money sitting around -- cash stashes have grown for just about everyone but Johnson & Johnson and Gilead Sciences Inc., which both made sizable acquisitions last year. Limited patent lives and the high and growing rate of R&D failure mean big pharma is constantly hungry for new drugs and drug candidates. And debt is cheap. 

There are a few things arguably making the case for M&A even more persuasive this year. U.S. tax uncertainty has been resolved, and the new law looks largely favorable for pharma firms. The threat of major U.S. drug-pricing curbs has all but evaporated. Consolidation among health-care payers, insurers and providers may convince pharma firms that scale is more essential than ever. Several companies such as Celgene Corp. face new growth and drug-development hurdles that may push them to deal. 
But all of the logical M&A drivers couldn't create momentum last year, and the same lethargy may continue this year. The global trend toward cross-industry M&A is unlikely to include drugmakers. Valuations are below all-time highs, but are substantially elevated from 2016. They are especially high for the sorts of later-stage companies acquirers tend to prefer. 
And the impact of the new tax law may not be quite as salutary as some cheering for buyouts hope. The average trailing 12-month effective tax rate of the 11 U.S.-based biopharma companies with a $50 billion-plus market cap was 19.82 percent. It's about 30 percent for the S&P 500 as a whole, according to Bloomberg data. Yes, overseas cash will be easier to bring home, and rates overall will go down substantially. But companies with overseas assets will have a large near-term tax bill they wouldn't have otherwise had to pay. And the extra cash they do get their hands on may go to buybacks and dividends. 
As much as investors may want to jump into 2018 with high M&A hopes, the lesson of 2017 is that even a compelling case for deals can fall flat. 
-- "M&A Matrix 2" graphic by Elaine He
To contact the editor responsible for this story:
Mark Gongloff at mgongloff1@bloomberg.net
Before it's here, it's on the Bloomberg Terminal.
LEARN MORE