Fallout
Dominion Aims to Clean Up a Nuclear Disaster
But the risks of regulatory roadblocks or rival bidders emerging are real.
By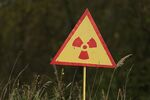 DOMINION ENERGY INC
+0.17
As of 10:25 AM EST
While some brag about the size of their button, Dominion Energy just went ahead and pushed it.
The Virginia-based utility is getting the new year started off right with a $14.6 billion deal, including assumed debt, for Scana Corp. You may recall that Scana was undone last year as it abandoned two half-built nuclear reactors in its home state of South Carolina; its stock fell by almost half in 2017.
The sector, on the other hand, rose about 6 percent over the course of the year -- as did Dominion Energy Inc. Hence, while the 42 percent premium implied by Dominion's all-stock offer looks high, it looks less so when you compare the exchange ratio -- 0.669 shares per Scana share -- with history:
Utilities are regulatory constructs, and Scana's nuclear debacle poisoned its relationship with South Carolina officials. Scana faced the prospect of having to do a potential multi-billion-dollar equity issuance -- on a $5.5 billion market cap -- after regulators reacted somewhat coolly to its plan to deal with the cost of the abandoned plants. It is striking that Scana's CEO Jimmy Addison -- who has been in the job all of two days -- wasn't even on Wednesday morning's call.
Carolinian sensitivities abound in the deal terms. On the first slide of Dominion's deck, shareholders come in fourth on the list of stakeholders who are supposed to benefit from the deal, behind customers, employees and state officials. A check averaging $1,000 is to be sent to each of Scana's 1.6 million residential customers, and Dominion has committed to further rebates partly funded, it says, by reduced corporate taxes. The word "synergies" appears nowhere, despite management saying on the call that it has assumed a "very modest" figure.
There's an echo here of another politically sensitive deal: the multi-part, and ongoing, saga known as the acquisition of Oncor Electric Delivery Co. This looks finally set to go to Sempra Energy, but only after it made a series of concessions to prickly Texas regulators and other local stakeholders.
The parallels don't end there. One reason Sempra is doing that deal is to shift its projected earnings mix to a bigger share of regulated utility earnings. While its unregulated operations -- including a liquefied natural gas export terminal that is under construction -- provide oomph to earnings, they also get less-favorable treatment from credit-rating agencies than the boring old poles-and-wires business.
Similarly, Dominion has ambitious earnings-growth targets, backed partly by unregulated pipeline and LNG export projects -- and net debt of almost 6 times trailing Ebitda as of the end of the third quarter, according to figures compiled by Bloomberg. Hence, Dominion is swooping in to buy a wounded, neighboring regulated utility -- and using its own highly rated shares to do so. There may also be an added bonus for Dominion if it can extend its proposed Atlantic Coast Pipeline project, bringing cheap Marcellus basin natural gas into the Southeast, via Scana.
Despite having pushed the button, there's no guarantee the deal gets done. Dominion has been talking with state politicians and officials to smooth its path, and Governor Henry McMaster in a statement described the deal as "progress."
But as Oncor's twisted path to the altar shows, the potential for stakeholders to raise obstacles or rival bidders to emerge is real. One thing is clear, though: Scana's capitulation will stand as a warning to utilities contemplating new nuclear plants in today's power market.
To contact the editor responsible for this story:
Mark Gongloff at mgongloff1@bloomberg.net
Before it's here, it's on the Bloomberg Terminal.
LEARN MORE