Negative Innogy
Elon Musk Is a Bad Role Model for a Utility Boss
Innogy's owners would like it to worry about cost. Potential acquirers might think the same.
By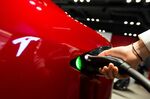 INNOGY SE
+0.44
At Closing, January 22nd
For utility investors, boring is beautiful. Dividends tend to be the priority, while visionary cash-consuming projects are best left to Silicon Valley.
Peter Terium's removal as chief executive of German utility Innogy SE seems to have been prompted by his breaching this golden rule. But rather than ending the unwanted drama, his departure could prompt more of it -- by putting the company in play.
Of course, European utilities have probably been a bit too interesting for at least a decade now, much to their shareholders' chagrin. Plunging commodity and power prices, the renewables revolution and Germany's exit from nuclear power all contributed to the collapse in RWE AG's shares and its 2016 decision to split. Fossil power and nuclear would stay with RWE, while the "good" parts -- retail, grids and renewables -- were bundled together in Innogy, led by former RWE boss Terium.
He was applauded for that value-creating strategy, but sullied his reputation last week with an ugly profit warning. Innogy's new 2018 guidance implied a double-digit percentage downgrade to consensus profit expectations.
Some of Innogy's troubles were already well documented. Its U.K. retail activities are struggling because of competition and the threat of government price caps. Innogy wants to merge its U.K. unit Npower with SSE. But Terium also said spending would rise by more than one-quarter next year to expand in renewable energy, and pay for esoteric projects such as broadband internet and electric vehicle charging infrastructure.
Channeling Tesla's Elon Musk, Terium declared Innogy to be a "trailblazer of change". "The electric vehicles breakthrough will come," he said. "Will the tipping point be tomorrow or later, that I don't know, but we will not miss the train."
Terium may be proved right over time, yet Innogy's supervisory board didn't fancy the journey. Announcing Terium's departure, it called for more cost discipline and a "more focused growth and investment strategy."
In theory, Innogy is free to set its own strategy, but RWE still holds a 77 percent stake and receives chunky dividends from its subsidiary. RWE said on Wednesday that it too would like its offshoot to worry more about cost. There are parallels here with Siemens AG's unhappiness with former subsidiary Osram Licht AG when it announced a massive investment in a new plant. 
Terium's departure leaves Innogy looking a tad rudderless, though. Until a replacement is found, its chief HR officer Uwe Tigges will run things. The experienced chairman Werner Brandt is also poised to leave this month for unrelated reasons.
Weakened prey often makes meat for potential acquirers. Yet even though the shares have lost 22 percent since November, giving it a more digestible 18 billion euro market value, there's no guarantee of an offer, and RWE is under no pressure to sell.
The company's retail activities are vulnerable to political interference, at least in the U.K., while its renewable and grid activities could be more capital intensive than some investors realized. The profit warning makes Engie SA's decision not to bid earlier this year look wiser than ever. For now, Innogy may be best left to ride the train alone.
To contact the editor responsible for this story:
James Boxell at jboxell@bloomberg.net
Before it's here, it's on the Bloomberg Terminal.
LEARN MORE