Supplier Demand
Apple Bulls Can Find Cheer in Taiwan
Fresh sales results from Apple's main supplier may keep sentiment high.
By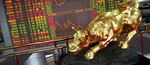 APPLE INC
-0.56
At Closing, February 16th
It's not often that Apple Inc. analysts downgrade the stock. And with a 52 percent run-up this year, you can understand why the bulls have pummeled the bears.
Head over to Taiwan, though, and you'll notice that sell-side pundits have been concerned about shares of iPhone assembler Hon Hai Precision Industry Co. for about three months. Hon Hai is the Taipei-listed flagship of Foxconn Technology Group and gets half its sales from that one client from Cupertino, California.
To date, both groups of analysts have been right.
For most of the year, shares of Apple and Hon Hai charted the same path: upward.
But supply constraints, perceptions of weak demand and poor monthly sales figures at Hon Hai spurred the two to diverge.
Analysts began curbing their enthusiasm for Hon Hai around mid-September, and the stock is down 19.3 percent from an Oct. 19 high. Apple's shares have advanced 13.1 percent since then and hit an all-time high on Monday before retreating a bit on Tuesday. Analyst ratings have trended upward. Until now.
A decision by Nomura Instinet's Jeffrey Kvaal to cut Apple to neutral takes the stock's consensus rating to 4.64 points out of a five-point scale, the lowest since October. Bloomberg gives five points for a buy, three for a neutral and one for a sell.
Hon Hai's consensus rating is now 3.85 with almost as many hold and sell calls (nine) as buys (11).
Yet those wanting to maintain a positive stance on Apple can also look to Taiwan, thanks to rules there that require monthly reporting of revenue figures. Hon Hai sales jumped 18.5 percent for November, a record high and the fastest growth in two years. 
It's possible that not all of this boost will make it to Hon Hai's bottom line, eaten up by higher production costs or non-operating items. Yet most of it can be connected to iPhone demand, or at least Apple and its resellers' predictions for iPhone demand heading into the holiday shopping season.
And that alone may be enough to justify a little bit more Apple bullishness.
To contact the editor responsible for this story:
Daniel Niemi at dniemi1@bloomberg.net
Before it's here, it's on the Bloomberg Terminal.
LEARN MORE