Long and Short of it
Hedge Funds: Rise of the Machines
Titans of the industry are giving way to passive and machine-driven vehicles, but the investment strategies aren't all that different.
By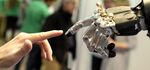 The future of hedge funds is starting to look like there will be fewer managers. That doesn't mean there will be fewer funds.
Traditional long-short hedge funds and their managers have recently felt like an endangered species, with many giving up after finding it increasingly hard to turn a profit, as Bloomberg News detailed Tuesday. The latest to throw in the towel is John Burbank, who hit it big after the financial crisis, but this week announced he was shutting his hedge fund Passport Capital. After two years of poor returns, recently from investments in Saudi Arabia, Burbank said he needed to rethink how he invests. He may launch a bitcoin fund.
Other long-short fund managers are coming to the same conclusion. In September, Whitney Tilson closed Kase Capital, saying he no longer had a high degree of confidence he could beat the market. Hedge fund manager David Einhorn, who is famous for making public cases against the companies he's shorting, has recently said he wasn't sure if his brand of value investing could still work. And Joel Greenblatt, a long-time hedge fund manager who launched long-short mutual funds a few years ago, has recently been allocating more of his funds to indexes in order to combat losses.
But while a number of hedge fund managers seem to be facing an existential crisis, the industry isn't. Despite recent  disappointing returns, the amount of money invested in hedge funds is up again this year, though well off from the boom times of the early 2000s. And the number of hedge funds actually rose in the third quarter for the first time in two years. What's more, despite news of closures, there are still 9,730 hedge funds, according to HFR, not too far below the all-time peak of 10,142 hit back in 2014.
A number of equity-focused hedge fund firms, including Renaissance Technologies and Two Sigma, are still attracting new money. Those entities and others like them have drawn tens of billions in the past year alone. What sets them apart from traditional, manager-led funds is that they use computers and algorithms to pick stocks. They're branded as quant funds so it seems different, but what they're doing really isn't.
On Tuesday, the Wall Street Journal profiled a little-known hedge fund named Voleon that allows its high-powered computers to pick stocks themselves. The fund still buys stocks and bets against them. It's just that computers decide how and when to do it, rather than some Warren Buffett-loving manager.
This is a changing of the guard, part of a broader shift away from active management into more passive and quant-driven strategies. Alfred Winslow Jones launched the first hedge fund in the late 1940s. Jones picked individual stocks to buy and short, but the real genius of his strategy was pairing the short investments with the longs. He called his strategy the "technical" approach to investing, as opposed to the fundamental stock pickers who came before him.
And it's been evolving ever since. In fact, in one sense there are more long-short funds than ever. In the past few years, the number of so-called liquid-alt funds and ETFs has exploded. Many of these funds, pitched at average investors, combine a mixture of long and short market bets. They do it based on rules and indexes, but they aren't that much different from what Jones was trying to achieve, which was a strategy that keeps up in good times, and is hedged when the market is headed down.
Yes, the quant funds and ETFs that are drawing the most money now tend to be more long, giving the impression that the traditional hedge fund is dying. But that's just because the market is going up. When the bull market ends, you will see the mix of shorting rise. The computers will automatically ramp up the hedges, ditching mostly long hedge fund strategies. And they won't feel sentimental about the switch either.
To contact the editor responsible for this story:
Beth Williams at bewilliams@bloomberg.net
Before it's here, it's on the Bloomberg Terminal.
LEARN MORE