Struggling Savior
Retailers Can Forget About Being Bought by Steinhoff Now
Accounting irregularities will sideline its acquisition spree.
By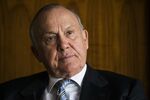 STEINHOFF INTERNATIONAL H NV
-34.00
At Closing, March 20th
STEINHOFF INTERNATIONAL H NV
-0.02
At Closing, March 20th
Steinhoff International Holdings NV, the South African retail group, has got itself into a bit of a pickle.
The company said on Tuesday that Chief Executive Officer Markus Jooste had resigned with immediate effect after it had discovered accounting irregularities that require further investigation. The stock fell as much as 60 percent in Frankfurt on Wednesday morning.
Steinhoff's problems make grim reading for any European or U.S. retailer hoping to be bought by the group. Its remarkable acquisition spree is surely over.
The owner of Conforama in France and Bensons For Beds in the U.K. emerged last year as a powerful force in retail M&A. It snapped up Poundland in the U.K. and Mattress Firm in the U.S. It also barged in -- ultimately unsuccessfully -- to J Sainsbury Plc's takeover of Argos and Groupe Fnac SA's pursuit of Darty.
And acquisitions weren't confined to Steinhoff -- its Chairman, Christo Wiese, is also an acquisition force in his own right. Through his investment vehicle, Brait SE, he's bought frozen food group Iceland and clothing retailer New Look. When British supermarkets were in the doldrums in 2015, he was even seen as a potential savior.
Wiese, who has assumed the Steinhoff CEO role on an interim basis, will now be responsible for sorting out its mess.
Before its troubles, it could have been a potential acquirer for furniture retailers to complement its operations in France and the U.K. 
But now, both the company and Wiese will have other things on their plate. That's bad news for some British store chains, that could soon become desperate for a rescue.
Retail sales have been weak, and this Christmas -- after a much better than expected festive season in 2016 -- is looking grim. Add in higher input costs thanks to the slump in the pound, and that some rental payments are due at the end of December, and that could make for a toxic combination. 
Steinhoff has given little detail on the accounting issues. It has delayed its 2017 financial statements and is also examining whether prior years will need to be restated. PwC has been brought in to investigate.
As investors in Tesco Plc know well, these matters drag on, and rarely result in the final picture being better than initially thought.
Tesco found in September 2014 that it had overstated its profits by 250 million pounds. This was revised upwards a month later to 263 million pounds. The black hole sparked a broader review of the way Tesco did business, which contributed to a 6.4 billion pound annual loss in the year to February 2015, and a slew of regulatory inquiries. It's only just starting to get onto a firmer footing. 
That all makes for considerable uncertainty for both Steinhoff investors and bondholders.
It also removes a potential comfort blanket for any retailers facing a bleak winter.
--With assistance from Gadfly's Mark Gilbert
To contact the editor responsible for this story:
Jennifer Ryan at jryan13@bloomberg.net
Before it's here, it's on the Bloomberg Terminal.
LEARN MORE