Ticket Troubles
Europe's Secret Tech Champion Is Making Too Much Money
Its airline customers may be rebelling, but Amadeus will be hard to dislodge.
By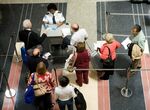 AMADEUS IT GROUP SA
-0.24
At Closing, March 16th
DEUTSCHE LUFTHANSA-REG
+0.30
At Closing, March 16th
Europe doesn't have any globally important technology companies besides SAP SE and Spotify, harp the critics. Nonsense: Amadeus IT Group SA, Europe's second most valuable software business, has become so powerful its customers in the airline industry are in rebellion.
A growing rift over the fees it charges to process airline ticket bookings has prompted analysts and investors to question whether might finally be dislodged from its perch atop the global travel industry. That looks unlikely: the Madrid-based company is indispensable to airlines and making itself more so.
If you've purchased a flight online or through a travel agent, there's a good chance Amadeus was involved. Its platform, the world's largest, collates airline seat availability and pricing data. About half of all global bookings are handled by distribution systems such as Amadeus. At legacy airlines like Lufthansa AG, the figure is nearer 70 percent. 
That dominance is reflected in Amadeus' shares: with dividends reinvested, the stock has returned almost 500 percent since an IPO in 2010, valuing the company at about 27 billion euros ($32 billion).
But Amadeus's profitability -- it's on track to report almost one billion euros of net income this year and a return on sales of 28 percent -- hasn't gone unnoticed by Europe's airlines. Ironically, some of them were involved in setting the company up 30 years ago, before they later sold their stakes 1 . Their financial returns aren't nearly as good as those of Amadeus -- Lufthansa will probably report an 8 percent operating margin in 2017. Now the airlines want to redress the balance.
In 2015, Lufthansa announced a 16-euro surcharge on each booking made through global distribution systems like Amadeus. British Airways and Air France-KLM are introducing similar levies. They want customers to book directly through their websites so they can increase customer loyalty, introduce more flexible pricing and offer more extras like lounge access.
Cost is likely to be a motivator too: airlines pay Amadeus about 4.30 euros ($5.10) for each booking it handles. 2  That doesn't sound much, but Europe's airlines are set to retain only about $9 of profit per passenger in 2017. 3
Ticket distribution accounts for two-thirds of Amadeus' sales and the three recalcitrant airlines account for about 15 percent of that total, according to Credit Suisse, so this isn't a matter to take lightly.
Still, investors appear to be unruffled by the threat: the shares are close to a record high and analysts expect revenue to expand at more than 6 percent annually over the next two years.
They're right to remain calm. Air travel is booming and Amadeus's position looks deeply entrenched. The company spent more than 700 million euros on R&D last year, or about 16 percent of sales, and its large customer base creates economies of scale.
It is taking more market share from rivals and adding more carriers to its platform, including budget airlines that hope to attract more corporate bookings. Smaller carriers will probably be more reluctant to cut out providers like Amadeus because doing so would mean spending more on marketing and technology. Even Lufthansa will continue to rely on Amadeus for a significant chunk of bookings, particularly from faraway locations.
The company has also diversified. It has a profitable and fast-growing IT business, which helps airlines handle check-in and departure as well as to expand their e-commerce activities. In other words, Amadeus stands to profit whichever ticket selling strategy airlines pursue.
Next time someone tells you the U.S. has a monopoly on global, data-hungry tech platforms, ask them if they've booked a flight recently. 
To contact the editor responsible for this story:
Edward Evans at eevans3@bloomberg.net
Before it's here, it's on the Bloomberg Terminal.
LEARN MORE