Mud In Your Eye
Regeneron's Eylea Protection Is Weakening
Another combo failure leaves its best-selling drug exposed to a Novartis threat.
By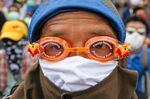 REGENERON PHARMACEUTICALS
-7.18
At Closing, March 22rd
NOVARTIS AG-REG
-0.56
As of 9:29 AM EDT
It's not looking good for Eylea, Regeneron Pharmaceuticals Inc.'s best-selling medicine.
Earlier this month, Novartis AG reported strong trial results for a possible competitor to the blockbuster eye drug. And on Monday, Regeneron announced it was giving up trying to combine Eylea with another medicine -- an effort that might have helped defend against Novartis's entry. 
This combo wasn't seen as core to Regeneron's future. But with investors already questioning Eylea's longevity, its failure can't help but feed a negative narrative, particularly after a separate combo effort failed last year.
Eylea accounted for nearly 80 percent of Regeneron's revenue in the third quarter, if you include proceeds from its collaboration with Bayer AG, which largely consists of the profits from Eylea's European sales.
Even without competition, Eylea's sales growth has slowed dramatically as its market has matured. It's unclear how much Novartis's drug will improve on Eylea, and it won't hit the market until at least 2019. But the data so far certainly look worrisome for Regeneron. 
The bad news heaps more pressure on upcoming data from a final-stage trial of Eylea in treating a broader group of patients with diabetic retinopathy. This may be the only thing standing in the way of a sooner-than-expected sales peak and decline for the drug. 
The stakes are also higher for Dupixent -- a Sanofi-partnered eczema drug and Eylea's presumed successor as Regeneron's best-selling medicine. Dupixent is expected to exceed $4.6 billion in worldwide sales in 2022. But the drug fell somewhat short of lofty expectations in a recent asthma trial and will likely face intense competition from AbbVie Inc. and other drugmakers.
And Sanofi gets a bigger cut of Dupixent sales than Bayer does of Eylea's. Relying on it as a savior is a risky proposition.
If any company can research its way out of this bind, it's Regeneron. The company had two likely billion-dollar drugs approved by the FDA in the space of a few months this year, in Dupixent and arthritis medicine Kevzara. Big pharma companies several times Regeneron's size rarely manage such a feat.
But if Eylea seriously stumbles, then Regeneron will be scrambling to maintain its current level of success rather than building on it. That will invite less-flattering comparisons with big pharma and raise questions about the company's lofty valuation. 
To contact the editor responsible for this story:
Mark Gongloff at mgongloff1@bloomberg.net
Before it's here, it's on the Bloomberg Terminal.
LEARN MORE