Uneasy Chair
Restoration Hardware Shouldn't Rest on Its Laurels
Its membership program is a surprising success, but it can't ignore e-commerce.
By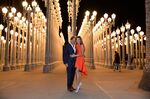 RH
+1.88
At Closing, March 16th
When RH, the corporate parent of Restoration Hardware, announced last year that it was launching a membership program, I was more than a little bit skeptical.
The luxury-furnishings retailer had just hit a stumbling block. Only weeks earlier, it issued a press release telling investors its promotions weren't driving sales as well as they once did; stores in energy-dependent markets such as Texas were performing badly; and production problems were marring its roll-out of the new RH Modern line. 1
And then along came the membership program, in which customers were asked to pay $100 a year for perks such as 25 percent off any full-priced purchase and complementary interior-design services.
It felt like a Hail Mary pass. Did an Amazon Prime-like model really make sense for a luxury brand that sells $6,695 canopy beds? If its existing promotions were no longer working magic with customers, then why would executives expect people to pay for access to its deals?
But it turns out I didn't give the idea enough credit. During a recent presentation for investors, Restoration Hardware executives said the program now has 380,000 members that drive 95 percent of the retailer's sales. Membership fee income is growing at a faster rate than sales.
Even more important, though, is what the program has done to the rhythm of Restoration Hardware's business. As members don't have to time their purchases in response to specific promotions, there aren't as many dramatic spikes and drops in customer orders, returns, and cancelled orders. When you're dealing with bulky, hard-to-deliver and hard-to-restock items such as furniture, that can be an operational nightmare. 
Restoration Hardware needs to get more efficient, as shown by its sinking operating margin.
It's no small thing if the membership program can indirectly help with that. RH said the model has already helped it smooth manufacturing inefficiencies and improve inventory accuracy. 
Meanwhile, Restoration Hardware should also be helped by some other important changes to its business. The chain is transforming its store fleet into a collection of what it calls "galleries" -- bigger locations that show more of its merchandise and include features such as cafés to help drive foot traffic.
Its RH Modern line is helping it reach a new set of customers that aren't so fond of its antique-chic look.
And yet I can see why some investors remain skittish about this stock. When CEO Gary Friedman addressed investors last week, he seemed pretty dismissive of e-commerce in the home-furnishings category and bemoaned the operational pressures it can create.
It wouldn't be fair to say Friedman has his head in the sand about digital. RH draws a significant share of its business from online sales, no doubt because the retailer is doing some things right in this channel.
But his attitude about the emerging digital landscape was somewhat alarming. If this is a convenience your customer wants, then why not be more enthusiastic about adapting to it? He also proudly touted that Restoration Hardware does little in the way of promotion on Instagram, Twitter, and Pinterest. He followed up that proclamation by stating, "Great brands don't chase customers, customers chase great brands."
In a retailing environment this competitive, it seems like a fantasy to think of customer acquisition this way. And one thing is for sure: Executive hubris isn't going to restore Restoration Hardware.
To contact the editor responsible for this story:
Mark Gongloff at mgongloff1@bloomberg.net
Before it's here, it's on the Bloomberg Terminal.
LEARN MORE