'Tis the Season
Modi's Early Christmas Gift
The ringing ratings endorsement ahead of a crucial state poll is a gift.
By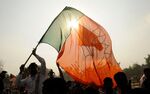 If he doesn't already, Narendra Modi should start believing in Santa Claus.
For the Indian prime minister, whose party faces an important poll in Modi's home state next month, the one-notch rating bump to Baa2 by Moody's Investors Service is an early Christmas present.
More importantly, the rationale for the upgrade cites two of his most destabilizing measures of the past year -- demonetization and a national goods and services tax -- as ingredients of a reform program that may have upset the economy temporarily, but should improve its shock-absorption capacity eventually.
While Moody's is being too charitable to last November's whimsical scrapping of 86 percent of currency in circulation, to be able to take such a ringing endorsement to voters in Gujarat is a big plus for Modi.
But Saint Nicholas isn't coming early only for him. Even the bond market gets something to cheer about, just as rising oil prices were beginning to make investors nervous.
India's economy runs on imported crude, while duties and taxes on petroleum grease government budgets both in New Delhi and in 29 states. Since consumers can't take the pain of higher global oil prices beyond a point, the bond market has been fearful of tax cuts. Now it can relax a little. Although India's debt-to-GDP is already high at 69 percent, and a long-delayed but much-needed bank recapitalization program is going to push it even higher, Moody's isn't unduly worried. In its hurry to be the first rating company to put India on the second step of the investment-grade ladder, 1 it didn't even wait for next fiscal year's budget in February.
The link between ratings and asset performance isn't always clear-cut, however. For instance, since China was downgraded to A1 from Aa3 in May by Moody's, its equity market has jumped 26 percent in dollar terms. Indonesia, which was upgraded by S&P Global Ratings that same month, has risen by only 4 percent. If Brent goes past $70 a barrel, but India's exports continue to disappoint, any euphoria over ratings improvement could quickly dissipate.
For now, though, global equity investors have a very different reason to groan about the upgrade.
Alarmed by frothy valuations and tepid earnings growth, they turned sellers in August, and remained bearish until October. A deluge of cash into domestic mutual funds, however, has seen the benchmark Nifty Index rise 26 percent since January, forcing foreigners to reconsider their bearish bet. The Moody's upgrade will put more pressure on them to chase the tail of local investors.
They include many millions of small businessmen and women. Their frustration in filing returns, which even tax officers don't yet fully understand, won't disappear for some time as even the levies keep changing.
A rising stock market at least offers some succor for frayed nerves. These hapless entrepreneurs should also do the right thing, and leave some cookies out for Moody's.
To contact the editor responsible for this story:
Katrina Nicholas at knicholas2@bloomberg.net
Before it's here, it's on the Bloomberg Terminal.
LEARN MORE