BELATED WELCOME
China Rolls Out a Faded Red Carpet
The country's financial industry doesn't hold the same allure as a decade ago.
By and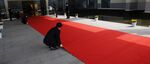 STANDARD CHARTERED PLC
-0.40
At Closing, February 23rd
China's laying out the red carpet for foreign banks. This time, few will be rushing in.
The country's top banking regulator, Guo Shuqing, says the market share of overseas lenders is falling and that isn't good for competition. The government plans to ease ownership and business restrictions to make life easier for them.
The share of global financial institutions in China, already minuscule, has been shriveling for some time, declining from 1.93 percent of total banking assets in 2011 to 1.38 percent in 2015. That year, their assets also fell in absolute terms, to 2.68 trillion yuan ($405 billion). The drop came amid a market that's been exploding: Total banking assets soared more than fivefold to 232 trillion yuan in the decade through 2016.
It wasn't supposed to be like this. China supposedly threw open its banking market in December 2006, under the terms of the country's accession to the World Trade Organization five years earlier. Enthusiasm ran high, with Standard & Poor's calling it "one of the most eagerly awaited events in the banking world."
Some were skeptical. "Are the floodgates really opening?" Gadfly's Andy Mukherjee asked in a column that month, pointing out the obstacles to foreign bank profits.
The hoped-for bonanza never materialized. While overseas lenders were theoretically free to offer local currency banking services to China's vast population, lengthy approval procedures for branch openings and working capital requirements ensured that authorities could keep a brake on expansion.
Local lenders picked up the slack, capturing almost all of the growth in banking assets over the ensuing decade.
The China Banking Regulatory Commission, headed by Guo, may now be ruing its success in holding back the foreign horde.
Frustrated by lack of progress and hobbled by the global financial crisis, overseas banks have lost their ardor for the country and exited their investments in Chinese lenders. Citigroup Inc. sold its stake in the former Guangdong Development Bank last year, a decade after becoming the first overseas financial-services company to manage a Chinese bank. Deutsche Bank AG offloaded its 20 percent holding in Huaxia Bank Co. in 2015.
Foreign institutions tempted to give China another try confront a greatly changed landscape: an economy where growth has slowed and credit creation on steroids has fueled concerns of a resurgence in bad loans, to the extent that even the central bank governor is talking of a possible "Minsky moment."
One company that will take comfort from Guo's words is HSBC Holdings Plc, which has the largest branch network among overseas banks and entrenched expertise in trade finance and offshore yuan trading. Count Standard Chartered Plc and Hong Kong-based Bank of East Asia Ltd. among the other likely beneficiaries.
Investment banking is another area of promise, especially as China opens up bond trading to overseas participants. HSBC became the first foreign firm allowed to control a securities venture in China this year (though it is still waiting for its licenses to be approved), while JPMorgan Chase & Co. Chief Executive Officer Jamie Dimon dreams of controlling a China business unit.
But for most, as Gadfly has noted, it's too little, too late. Rather than risking their reputations and balance sheets to compete with China's giant and protected home-grown banks, foreign entrants may be better off looking for partners -- and not among traditional financial companies.
Technology firms have become the biggest competitive threat. It's no coincidence that the two hottest initial public offerings in recent months have been by fintech firms part-owned by Alibaba Group Holding Ltd. affiliate Ant Financial: Qudian Inc. and ZhongAn Online P&C Insurance Co.
Tie-ups in fund distribution, credit cards or payments with the likes of Alibaba or Tencent Holdings Ltd. -- both of which have banking licenses -- all hold promise.
The days when foreign banks dreamed of nation-spanning Chinese branch networks serving more than a billion potential customers are long gone. Technology is the new frontier.
To contact the editor responsible for this story:
Paul Sillitoe at psillitoe@bloomberg.net
Before it's here, it's on the Bloomberg Terminal.
LEARN MORE