What's In The Box?
Stitch Fix Is the Anti-Uber Silicon Valley Startup
It's profitable and free of drama and hype, like a grownup company.
By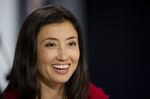 STITCH FIX INC-CLASS A
-0.52
At Closing, February 16th
We've gotten used to overgrown technology startups with hyped valuations, boardroom squabbles and business models that sound like headlines in The Onion. Heck, all those qualities apply just to Uber. 
Stitch Fix Inc. shows there's another way to be a tech startup in 2017: No drama. Just $$$. 
For those unfamiliar with Stitch Fix, the company is an online personal styling service. You tell Stitch Fix a little about your taste in clothing and other information, and then the company ships you five items of apparel for a $20 fee. Customers pay for the items they like minus the initial fee, and send back the rest. Customers can sign up for regular Stitch Fix deliveries, or only get them occasionally. 
There are now a bevy of internet personal-shopper services, and also many hundreds of "stuff in a box" startups that ship hand-picked clothing, beauty products, pet toys and more. But it's clear Stitch Fix, which filed its paperwork Thursday for an initial public offering, has landed on something special. There are no guarantees Stitch Fix will keep growing or even survive, but it has proved it's possible to thrive as a tech startup and still be managed like a grownup company. 
This is what professionally managed startups can look like: Stitch Fix generated close to $1 billion in revenue in its fiscal year ending in July, a nice but not out-of-bounds 34 percent higher than the prior year. Unlike many other tech startups, negative numbers are rare in Stitch Fix's financial statements. It generates impressive gross margins, hasn't splurged on marketing and manages to eke out a small operating profit. 
Stitch Fix is a real business. And that makes it weird among the current crop of technology startups. 
Stitch Fix is also an oddball for not wanting or needing to collect vast sums to support itself. It has sold just $42.5 million in stock to private investors since the company started in 2011. That is a dinky amount of capital by current Silicon Valley standards. On a single day this week, on-demand ride company Lyft sold $1 billion worth of stock. And that wasn't even the biggest startup funding news within a 24-hour period.  
Sure, in theory, a company like Stitch Fix that sells physical goods for hard cash doesn't necessarily need lots of startup capital and shouldn't be unprofitable. But there are plenty of merchandise-selling startups that are tire fires of investor money. Allow me to point you to the flaming pit where Juicero once stood.
The modest amount of capital investments means Katrina Lake, Stitch Fix's founder and CEO, still owns a big chunk of her own company, and she didn't let valuation get out of hand.
Based on the price at which Stitch Fix bought shares held by Lake and other employees in December, the company is worth about $2 billion, excluding the value of options held by employees and others. That works out to about two times revenue in the past 12 months, a roughly similar multiple to publicly traded e-commerce companies such as Amazon.com Inc. and furniture seller Wayfair Inc.
Yes, Stitch Fix is imperfect. Operating margins have been shrinking, and the company has wrestled with the tricky task of managing its inventory. The biggest risk is its personal stylist service is a novelty. People could grow bored of Stitch Fix, start to do more clothes-shopping on their own, or just decide they have better ways to spend money. Getting regular deliveries of jeans and gingham dresses is most definitely discretionary spending.
Stitch Fix disclosed that its customers tend to spend more in the first six months of using the service than they do in the following six months, and customers in year one tend to spend more than people getting deliveries for a second year. 1 Those trends show Stitch Fix is under pressure to keep customers surprised and happy for order after order. And it must keep finding more customers who are willing to pay for someone else to pick out their wardrobe.
The company is trying hard not to be branded as a retail company, with the relatively mild valuation range that entails. To stress its technology bona fides, Stitch Fix uses the words "data science" 64 times in its IPO document. 
There are plenty of vulnerabilities for public investors to weigh. But Stitch Fix is financially healthy enough to control its own destiny. If the IPO goes poorly, Stitch Fix won't be forced to slash marketing spending or fire a bunch of employees, as recently public Blue Apron had to do.
Stitch Fix won't have to beg for money from public investors because it built a business steadily and pragmatically. How boring. And how refreshing.
To contact the editor responsible for this story:
Mark Gongloff at mgongloff1@bloomberg.net
Before it's here, it's on the Bloomberg Terminal.
LEARN MORE