Rick Rolled
Rick Perry's Plan Looks DOA But Could Spark a Dynegy Deal
Signs point to higher power prices, which could force Vistra to act.
By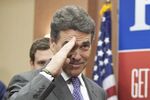 VISTRA ENERGY CORP
-0.24
At Closing, April 20st
The intellectual rigor underpinning Energy Secretary Rick Perry's proposed subsidy for coal-fired and nuclear power plants was captured best in the response given last week by the 'Dancing With The Stars' alumnus to a congressman's question about the plan's projected cost:
What's the cost of freedom? What does it cost to build a system to keep America free?
When it comes to M&A, though, intellectual rigor is only part of the equation; tactics and plain old second-guessing are equally important. So even if Perry's black-lungs-matter 1 plan ultimately doesn't fly, it may yet help tip the balance in the most talked-about potential deal in the power sector: Vistra Energy Corp. buying Dynegy Inc.
This tie-up has been rumored since the spring (I wrote about in April). And the takeout of fellow generator Calpine Corp., announced in August added fuel to the fire. Curt Morgan, Vistra's CEO, has also dropped hints, such as this one from the company's latest earnings call:
The other thing, I think, that's very important is that the synergies that I think exist and we think exist in a larger-scale deal, as there are scale economies especially around corporate center and support costs; those could be quite substantial.
And yet buying Dynegy has never felt like a no-brainer for Vistra. On that same earnings call, Morgan also floated the possibility of doing a large share buyback instead -- although touting alternatives would also be a good way of blowing some of the merger froth from Dynegy's stock price (tactics, folks).
There are two main reasons for buying Dynegy. First, while Texas is probably the best power market in the U.S., Vistra might like to not have all its eggs in one Texan basket. Buying Dynegy would give it a substantial position in the PJM market, which covers a broad swath of mid-Atlantic and Midwestern states.
Second, the potential for synergies looks reasonable. Taking out half of Dynegy's overhead and 10 percent of its operations and maintenance costs adds up to about $180 million a year. Its carried losses would likely provide a tax shield worth perhaps another $100 million or so a year. On a multiple of 7.5 times -- Vistra trades at 8.3 times 2018 Ebitda -- that equates to $2.1 billion of potential value. Meanwhile, even with a 20 percent takeover premium, Dynegy's valuation would be less than $1.5 billion. 2
Against this looms Dynegy's net debt. Consensus estimates imply this might be about $9 billion by the end of the year. This would, assuming an all-stock deal, push Vistra's leverage from an estimated 2.1 times Ebitda to 4.6 times, recalling the bad habits that have led this sector into chapter 11 so often in the past -- and at a time when rival NRG Energy Inc. is being rewarded handsomely for shrinking its balance sheet.
That said, assuming consensus estimates are right and those synergies mentioned above, that leverage could drop to 3.4 times by the end of 2018. Meanwhile, Vistra's free cash flow yield, as a percentage of its market cap, would rise from about 11 percent standalone, using 2018 forecasts, to a pro-forma 17 percent. On balance, therefore, Vistra might be willing to take the risk of what looks like a temporary hit to its credit metrics.
The diversification issue is more nuanced. A big selling point for Vistra is its retail electricity business, a relatively stable cash-flow stream hedging the more-volatile generation operations. Things would tilt much more heavily toward the latter with Dynegy added in.
Moreover, the PJM market, with its excess capacity and proximity to cheap Appalachian natural gas (which smothers wholesale power prices), isn't too inviting.
It's on that last point where Perry's proposal might shift the needle.
The Federal Energy Regulatory Commission is unlikely to push this sort of plan, given how far it would roll back decades of largely successful deregulation. But the Department of Energy's prodding certainly raises the likelihood that FERC will push for some sort of market reform that raises power prices -- to the benefit of struggling coal-fired and nuclear plants, along with most generators.
Even prior to Perry's push, PJM Interconnection LLC had already floated proposals designed to adjust how wholesale prices get set, effectively shifting more revenue toward less-flexible plants, such as those running on coal or uranium. Greg Gordon, an analyst at Evercore ISI, estimates that, if implemented, such a plan might raise wholesale power prices across the PJM region by about $3 per megawatt-hour.
For Dynegy, based on its regional output, that could add up to another $150 million of revenue, most of which would drop to the bottom line -- and its price. Assign a 50 percent probability to that number, and Dynegy's current multiple of 7.5 times Ebitda, and -- with a 20 percent takeover premium added in -- waiting around could lead the purchase price to jump by almost $700 million, or 45 percent.
Vistra's CEO said on the second-quarter call that he had spent time with his counterpart at PJM and felt "very confident" FERC would support market reforms in that region.
Taken all together, this points toward higher expectations for Dynegy feeding into its stock -- and, therefore, a higher price to be paid if Vistra ultimately decides to pull the trigger on a deal. Perry's proposal, ill-conceived as it is, may provide one more signal to move sooner rather than later.
This phrase was kindly loaned to me by the ever-eloquent Peter Ricchiuti, professor at Tulane University's Freeman School of Business and founder of the Burkenroad Reports investment research program.
To contact the editor responsible for this story:
Mark Gongloff at mgongloff1@bloomberg.net
Before it's here, it's on the Bloomberg Terminal.
LEARN MORE