Not So Public Offering
Saudi Arabia Needs Lots of Private Oil Money
An IPO could be half as big as all annual new issues combined.
By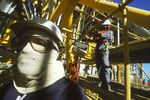 Saudi Arabia is considering a staggered process for the colossal initial public offering of its state oil company, according to an FT report. That could potentially involve a local IPO of Saudi Aramco in Riyadh alongside a private placement to cornerstone investors, with an international sale following later.
Whatever structure Aramco opts for, the sheer size of the offering means shareholders taking hefty stakes would have to be an essential part of its privatization. This was always going to be an IPO roadshow taking in the world's richest individuals and institutions.
Saudi Arabia is considering selling about 5 percent of the company. At the mooted -- but contested -- $2 trillion valuation, that would imply a stock offering of at least $100 billion. This is about half of the natural demand for global IPOs based on recent figures. In the past 12 months, $206 billion of stock was sold in new issues, including $95 billion of new stock sales in Asia, $52 billion in Europe and $43 billion in the U.S, Bloomberg data show.
Even a simultaneous Aramco share sale in Hong Kong, London and New York would be a struggle for traditional IPO buyers to absorb. Institutional investors don't have infinite capacity to buy share issues. So local Saudi support, sovereign wealth funds and other sources of private capital always looked the more natural starting point to build the Saudi Aramco book.
For such buyers the investment decision may be as much political as financial. A public listing is the piece that provides post-IPO liquidity in the shares, confidence in the valuation and the kite-mark that goes with being a major public company. Aramco will doubtless have always been planning for cornerstones. They're the beginning of a successful privatization, but not the end.
To contact the editor responsible for this story:
James Boxell at jboxell@bloomberg.net
Before it's here, it's on the Bloomberg Terminal.
LEARN MORE