Clean Power
Sempra Gets Less Messy With Texas
A simpler deal structure makes local approval more likely.
By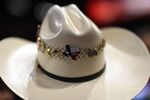 SEMPRA ENERGY
-0.03
At Closing, January 19th
If there is one company that embodies the slogan "Don't mess with Texas," it is surely Oncor Electric Delivery Co.
Sempra Energy updated investors late on Wednesday about its plan to acquire the Dallas-based utility. You may recall that in late August, Sempra jumped into the battle to buy Energy Future Holdings Corp. (EFH), the entity that owns 80 percent of Oncor and is itself a remnant of the busted leveraged buyout of TXU Corp. back in 2007.
Several previous suitors had fallen afoul of strict demands from state regulators, wary of another debacle, about ring-fencing Oncor's cash flows. This created an opening for Warren Buffett to make a bid, but Sempra stepped in with a higher one.
Sempra's offer was rather convoluted, though, involving layering on some debt at the EFH level and bringing in some third-party investors (see here for details). This was designed to limit Sempra's need to issue new equity and take more debt onto its own balance sheet, while, the company was confident, also assuaging any local concerns.
It looks like those concerns weren't completely assuaged.
Having "learned a lot from our meetings in Austin," as Sempra CEO Debra Reed put it on Wednesday evening's call, the deal was been radically simplified. Sempra will now just buy EFH in its entirety, rather than have other investors take 40 percent. And it won't layer on that $3 billion of debt at the EFH level, either. Here's a summary of how the two plans stack up:
I did wonder why, having witnessed the frosty reception given to previous wannabe buyers, Sempra didn't just go for the straightforward approach in the first place; but no harm in trying, I suppose.
The disappearance of new debt at the EFH level -- which would have sat just above Oncor itself -- is an obvious crowd-pleaser. More striking is the heavy equity component of Sempra's new plan. Under the old structure, it looked set to issue about $1.9 billion of new equity 1 . The new one requires $6.1 billion.
Sempra has to keep credit-rating firms onside; this is a big part of why it wants to buy Oncor's regulated assets in the first place, to offset a rising proportion of unregulated and non-U.S. earnings in its mix. So simply letting the balance sheet take the strain isn't an option
If issued as straight equity, that $6.1 billion would expand Sempra's common stock outstanding by roughly a fifth, based on the current price. Even assuming 7 percent growth per year in Oncor's allowed earnings and a 3 percent cost of debt, that would make getting to average accretion of double-digit cents per share over the first four years after closing -- as per the company's new, slightly reduced guidance -- a stretch.
It seems likely, therefore, that common equity isn't the only source being considered. And Reed hinted on Wednesday's call that there might be some other "opportunities to grow around" at Oncor, though without detail. Still, push the utility's earnings growth to 8 percent a year and accretion pushes firmly into Sempra's range, even assuming all common stock.
And what of the extra parent-level debt, now more like $3.3 billion rather than perhaps less than $2 billion? Sempra claims the new structure will strengthen its credit metrics; and, using one rough-and-ready calculation, that looks plausible. Along with the extra debt, the new structure means Sempra has an indirect claim on more of Oncor's earnings. Here's an estimate of how much it nets under the two plans, assuming average annual earnings growth of about 6 percent at Oncor, and a cost of debt of 4 percent:
The upshot is that, under these assumptions, the debt under the new structure is 7.5 times the average annual Oncor earnings net to Sempra, versus 8.9 times under the old plan.
Sempra's stock dropped about 2 percent early on Thursday, no doubt under the pressure of a bigger equity issuance looming. It still trades north of 21 times forecast earnings, though, due to a double-digit growth target that simultaneously necessitates and enables the Oncor bid. Under the circumstances, Sempra will do all it can not to mess with those Texans.
Before it's here, it's on the Bloomberg Terminal.
LEARN MORE