Undergirding
Victoria's Secret Is on the Right Runway
L Brands is absorbing short-term pain for long-term gain.
By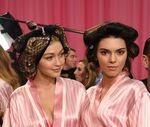 L BRANDS INC
-0.60
At Closing, February 16th
Make no mistake: It has been a dismal year for L Brands Inc., the corporate parent of Victoria's Secret and Bath & Body Works.
Its stock has lost more than a third of its value so far in 2017 as it has recorded sharply lower same-store sales and faced questions about its ability to adapt to changing consumer preferences.
But there are early hints the worst might be over. The retailing giant reported on Thursday that same-store sales at Victoria's Secret -- which accounts for 62 percent of its annual revenue -- fell 5 percent in September from the previous year. It's a lackluster result. But it's also the latest step in a pattern of steady improvement: 
The stock had already gotten a bump in recent weeks, after a couple of upbeat analyst reports on Victoria's Secret's turnaround efforts. Goldman Sachs analysts who met with L Brands executives wrote in a research note that CEO Les Wexner told them the bottom for the chain came in May and June. He said company surveys show younger customers are coming to the stores, and sales of a new collection called Sexy Illusions have been robust. 
Investors erased some of those gains on Thursday morning, likely because they were hoping progress would come even faster. 
I'm not declaring Victoria's Secret has solved its problems. But this recent change in momentum suggests the chain has a real shot at figuring out a viable pathway to health.
It's true Victoria's Secret was slow to embrace bralettes, a suddenly popular bra style with no wiring or padding. Surely that cost it some business. And then, when it did get on the bralette bandwagon, it struggled with the fact that these simpler, often pullover-style garments come with lower price tags.
But the chain has rightly acknowledged that bralettes are a trend, not a fundamental aesthetic shift. So Victoria's Secret is offering those styles, sure, but also taking care not to let them dominate the business. Constructed bras are where the chain has long had a competitive advantage, and it's also where the profit margins are.
Meanwhile, it's important to remember that sales results look so crummy partly because the retailer proactively made sweeping changes when cracks first emerged in its business.
It has tamped down on promotions, which may keep some shoppers on the sidelines in the short term. But consumer confidence is high right now. And prices were never the primary bait that made women shop at Victoria's Secret. So if there's any time to wean customers off those profit-eating deals, it's now.
Executives also made the hard choice in 2016 to cut the chain's swimsuit and apparel businesses. Things don't look quite as bad when you look at the comparable sales declines with that in mind:
And abandoning swim and apparel will likely prove beneficial over the long haul. Just look at how things have been going this year for some specialty retailers at which clothing is a core competency:
For Victoria's Secret, fashion was just a side hustle. It was prudent to get out of a business that was never was going to be its core, particularly now, when even companies fully focused on fashion are struggling. 
So, at least in part, things are bad at Victoria's Secret for the right reasons: Wexner and Jan Singer, the head of Victoria's Secret, have been making hard choices that have near-term consequences.
And despite the noise about the brand's ability to keep up with shopper desires, Jamie Merriman, an analyst at Bernstein, makes an important point: Victoria's Secret still has a commanding market share -- and, in fact, it has grown steadily in recent years.
There's still reason to be concerned. L Brands overall has many outposts in the not-so-swanky "B" and "C" malls, suggesting Victoria's Secret probably has significant exposure to those suffering shopping centers.
And as Gadfly's Tara Lachapelle has pointed out, the chain could do better at offering inclusive sizing, and it's vulnerable to competition from digital-centric startups and from Aerie, the fast-growing intimate-apparel chain owned by American Eagle Outfitters Inc.
But Victoria's Secret is moving in the right direction. Now the challenge is to keep up the pace.  
To contact the editor responsible for this story:
Mark Gongloff at mgongloff1@bloomberg.net
Before it's here, it's on the Bloomberg Terminal.
LEARN MORE