Tesco Plc's investors had plenty to smile about on Wednesday, even if one reason to celebrate was the prospect of an earlier death. 
As we've noted before, gains in British life expectancy are slowing. That was a factor behind a handy slashing of Tesco's whopping pension deficit, from 5.5 billion pounds ($7.3 billion) in February to 2.4 billion pounds at the end of August.
Continuous Mortality Investigation Ltd., which sounds like something from a Philip K. Dick story, produces the longevity forecasts used by corporate pension schemes and insurers. It has found that the average life expectancy of men and women aged 65 declined in the past two years. Official statistics are slightly less alarming, but still show it slowing.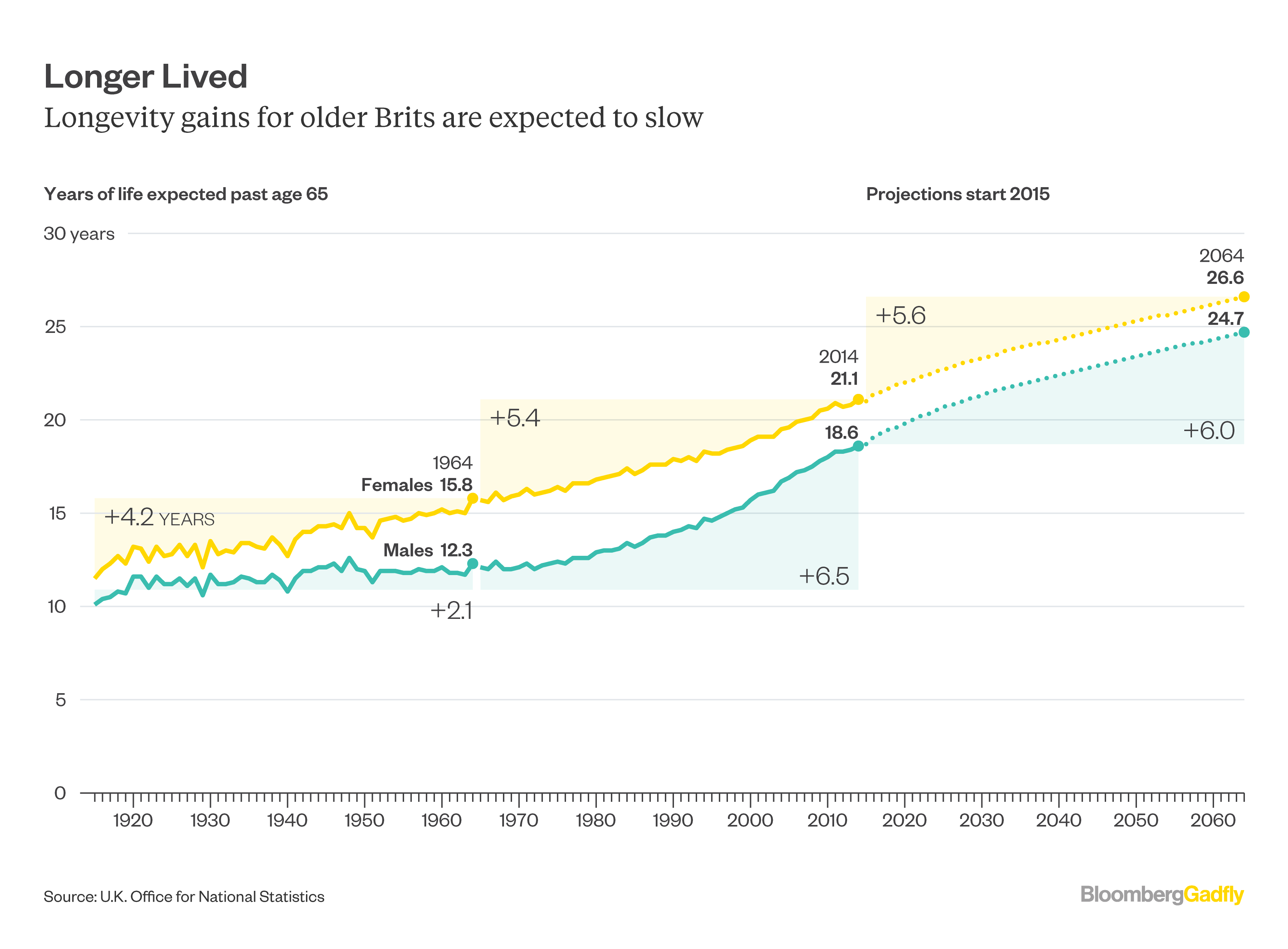 Tesco has taken information such as this into account, cutting its pension liabilities by about 700 million pounds.
The other element helping Tesco bring down the deficit is a change in the discount rate used to calculate the present value of future pension payments. It has shifted from using the yield on gilts to calculate its obligations, to that on investment-grade corporate bonds, which is higher. A higher discount rate means a lower current value of liabilities.
That's all helpful for the Tesco balance sheet, even if such a drastic technical reduction raises eyebrows. While chief executive Dave Lewis has made decent progress in reviving sales growth, and now improving the operating margin and resuming dividend payments, total borrowings have remained worryingly high.
At the same time, Tesco has completed the triennial valuation of its pension scheme, and agreed to increase its yearly contributions from 270 million pounds to 285 million pounds. That offers certainty on payments for the next three years.
Tesco's actions are a probable prelude to moves by other companies with chunky pension deficits. After all, liabilities swelled last year across corporate Britain thanks to the sharp fall in gilt yields after the vote to quit the EU.
Still, bond yields are one thing. Life expectancy is quite another. As Gadfly has argued, companies mustn't be too hasty in slashing their forecasts of liabilities based on predictions of people dying quicker. There have been times in the past when the average age of death has stabilized or dropped back, only to resume its upwards trajectory.
Investors will hope Tesco hasn't jumped the gun. After all, some niggles remain over what was looking like a textbook recovery under Lewis. Same-store sales growth slowed in the second quarter, a reminder of how fiercely competitive the British supermarkets remain.
Meanwhile, the German no-frills grocers aren't going away. And Tesco's 3.6 billion-pound purchase of Booker Group Plc needs to clear competition hurdles.
At least Lewis, in getting the balance sheet under control, should have improved his own corporate lifespan.
This column does not necessarily reflect the opinion of Bloomberg LP and its owners.
To contact the editor responsible for this story:
James Boxell at jboxell@bloomberg.net