The cars we drive don't just move us around. To an occasionally bizarre degree, they're part of our identity.
There's a reason super-rich drivers shell out $2 million for the world's fastest road car, the Bugatti Veyron, even though a $15,000 Daimler AG Smart car can reach the legal speed limit pretty much anywhere on the planet.  Or why a happy Toyota Corolla owner might cringe at the thought of switching to a Camry. Just about everyone has an opinion on the Volkswagen AG Beetle's dashboard flower vase.
To date, the identity of an electric car owner, regardless of make or model, has been confined to, well, "electric car owner."
So while battery life, price or lack of charging infrastructure are often cited as reasons blocking mainstream adoption of new energy vehicles, a little bit of choice could also go a long way in spurring consumer demand.
Tesla Inc., with its range of sports cars, SUVs and premium sedans, has been the closest the EV industry has got to escaping the boxy tyranny of the Nissan Motor Co. Leaf, Chevrolet Bolt, BMW AG i3 and Renault SA Zoe.
That's on the brink of changing.
On Friday, the Nissan, Renault and Mitsubishi Motors Corp. alliance said it would introduce 12 pure electric-powered cars by 2022, essentially its next product cycle. By then, the group aims to get 30 percent of sales from EVs.
Earlier this week, VW said all 300 models in its lineup will have electric versions by 2030. And in July, Geely Automobile Holdings Ltd.'s Volvo affiliate said it will offer electric or hybrid versions of all its cars by 2019.
By 2018, there will be 112 battery electric and 72 plug-in hybrid models available globally, up from 76 and 36 respectively just 12 months ago, according to Aleksandra Rybczynska of Bloomberg New Energy Finance.
The Nissan alliance has pushed for diversity with a lineup that includes curiosities like the Kangoo van, I-MiEV city car and a dinky Twizy quadricycle. But it took the Japanese company seven years to come up with a new version of the Leaf and it still didn't move the needle much. And with the possible exception of the Mitsubishi Outlander plug-in hybrid SUV, there's little else to get the heart racing. 
The alliance's push for 12 new electricity-powered cars in the next three years will help drive up choice for consumers and usher in higher sales.
That's what happened in Norway, France, Germany and the Netherlands, where increases in the market share of electric vehicles closely correlate with new models entering the market, according to research by BNEF's Colin McKerracher.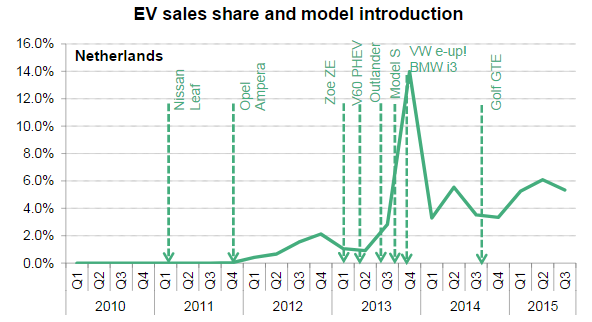 Plus, the alliance's scale will allow it to use shared technology and research to hasten the pace. By developing a common battery and base structure, it can build a wider range of SUVs, minivans, and sedans in multiple styles and designs on the same shared platform, resulting in a more profitable and nimble product range.
Renault Chief Executive Officer Carlos Ghosn is following one of the oldest lessons in the automotive industry. In the 1920s, Alfred Sloan's General Motors Co. overtook the dominance of the Ford Model T not with cheaper cars, but with a dizzying array of new, fashionable body designs on top of a relatively limited range of frames. Sloan's promise to build a car for every purse and purpose gave birth to the idea of market segmentation now used in sales strategies from smartphones to coffee.
The same holds true for new-energy vehicles. Only once automakers abandon the term "electric car" as a distinct category and start providing consumers with variety will the true revolution arrive.
This column does not necessarily reflect the opinion of Bloomberg LP and its owners.
To contact the editor responsible for this story:
Matthew Brooker at mbrooker1@bloomberg.net