The world has been watching with horror as the human and economic costs from hurricanes Harvey and Irma, and the earthquake near Mexico, stack up. And there are more Atlantic storms on the way. Once relief efforts are well under way and victims begin their struggle to return to normal, the insurance industry moves in to assess the financial cost.
For financial professionals, it's also natural to consider the impact of catastrophe bonds. These help insurers offload some of the exposures they underwrite while fulfilling growing regulatory capital needs, and keep a lid on premium increases. When a disaster covered by a cat bond occurs, the bond may be partly or fully canceled, and the principal may never be repaid.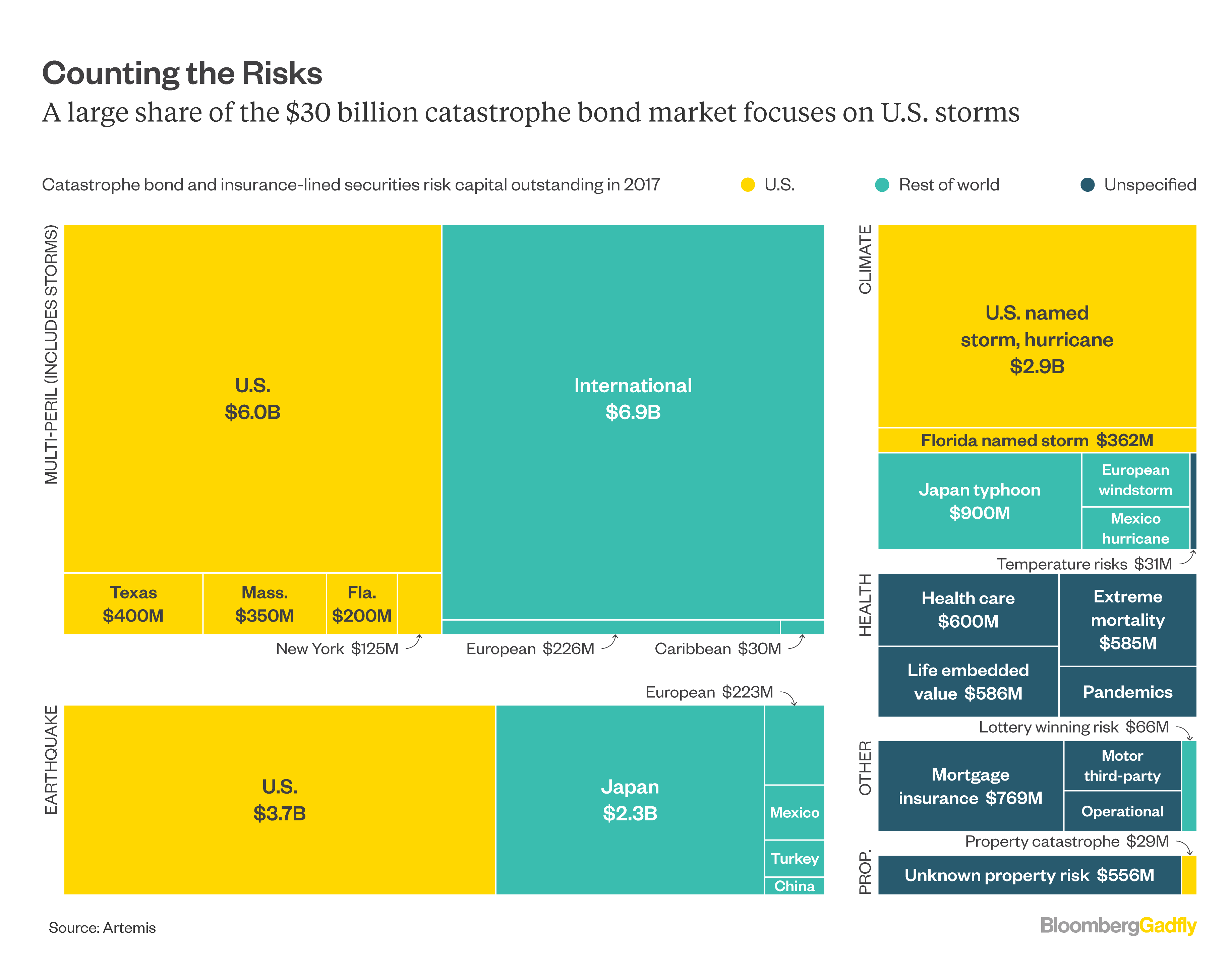 Holders of bonds connected to the recent events have already seen sharp markdowns, but their final losses depend on an appraisal from a calculation agent that can take months. Everyone involved is now in a waiting game, not least because losses can vary if the estimate of the scale of the disaster is revised, and the parameters for an event trigger can be amazingly fine. 
For instance, the World Bank's $120 million 4.5 percent bond issued earlier this year to cover Mexican earthquakes is at risk of being wiped out. However, the payout depends on the final assessment of the magnitude of the recent quake, according to Steve Evans, editor at Artemis, which analyses the sector. The difference between 8.1 and 8.0 may be the difference between total loss and a 50 percent payout.
Evans says there are about $14 billion of bonds at risk from the current storm season in the U.S. Of these, $3 billion to $6 billion are most vulnerable to a full-on hit by Irma to the Miami region, though the full extent of the impact on the securities won't be known for a while.
Still, with so many big storms coming at once, it's easy to assume that substantial losses will be in store, and these will spell the end for catastrophe insurance. 
But in fact, for the cat bond universe, it's quite the reverse. These securities are where financial engineering meets disaster insurance, and the current environment has made them a key destination in the global search for yield. They offer investors a decent premium for a type of risk that has no correlation to other asset classes. Gains have been respectable lately, but with perhaps a bit less shine -- so far this year they've returned 3.4 percent, versus 6.9 percent last year. 
The most active traders are specialist insurance entities, along with quant hedge funds. These players are perfectly suited to develop bespoke models to assess the eventualities covered by securities, and look at them as a ripe area for delivering outsized returns. If premiums and yields jump up, then so does their interest.
The relative lack of major natural disasters in the last few years has pushed premiums down, and hedge funds have drifted away.
Recent events should, logically, drive insurance premiums higher. However, the sheer weight of money searching for juicy yields might make an uplift surprisingly modest. It's an open question whether this alone will be enough to lure the hedge funds back in.
On the other hand, the severe losses that are probably in store from the recent devastation might scare away some capital. But some professionals will be running towards the fire.
Big multi-asset funds allocate only a tiny percentage to the space. The pain of partial or total losses on one issue in their cat bond basket will be cushioned by their diversification over a raft of securities with different risks. They can also smooth out portfolio returns by reinvesting in new bonds at higher rates.
The latest storms mean insurers will seek to spread their risk even more. This suggests a further increase in volume of new cat bond issuance.
There's a large pool of capital waiting in the wings for exactly the type of events we are now seeing. When premiums rise, even if its only modest, they will be ready to invest and lock in greater returns.
That's not any comfort to the victims of any of these storms. But at least the market, born in the wake of Hurricane Andrew in 1992, will continue to be able to help insurers transfer risk and ultimately make payouts to those in need. Efficient markets are needed in times of stress, and the catastrophe bond market's time has come. 
--Gadfly's Elaine He contributed charts.
This column does not necessarily reflect the opinion of Bloomberg LP and its owners.
To contact the editor responsible for this story:
Jennifer Ryan at jryan13@bloomberg.net