Raw End
Uber Gets a China Ride It Can't Cancel
Exposure to a stodgy state-backed telecom operator wasn't the plan.
By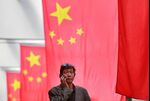 CHINA UNICOM HONG KONG LTD
-0.16
At Closing, May 21st
Uber Technologies Inc. investors have a lot on their plate, from a leadership vacuum to scandals around gender discrimination. Now, a stodgy state-backed Chinese telecom operator has been added to the mix.
Ride-hailing giant Didi Chuxing, which counts Uber as a backer, will join JD.com Inc., Tencent Holdings Ltd. and Alibaba Group Holding Ltd., along with a handful of other investors, to buy a 35 percent stake in Shanghai-listed China United Network Communications Ltd. in a deal that will raise almost 78 billion yuan ($11.7 billion), according to an announcement late Wednesday.
Didi's actual investment in China Unicom, the parent of Hong Kong-listed China Unicom Ltd., is likely to be tiny. But Didi being dragged into this showcase for state-owned-enterprise reform means Uber will have exposure to the weakest of China's three mobile telecom companies.
Uber became a 17.5 percent stakeholder in Didi when it gave up on making it alone in China back in 2016. An April funding round for Didi that made it the world's most valuable startup after Uber diluted the U.S. firm's stake, although it's unclear by how much.
To be sure, all of these tech companies should benefit from getting into bed with a state telecom operator that will be rolling out a huge 5G mobile network. And under entrepreneurial chairman Wang Xiaochu, some revitalization of Unicom's sclerotic ways isn't impossible. While mass layoffs are unlikely, Unicom is planning a board shakeup that will bring in four members from the new investor group and five independent directors.
Most of the positives, however, are stacked on Unicom's side. It gets the cash it needs to compete with more aggressive state rivals China Mobile Ltd. and China Telecom Corp., and funds to offset the hit to revenue it will experience once domestic long-distance charges are scrapped from next month. Beyond that, Unicom could use some private-market efficiency, and help on the public-relations front.
When Uber bowed out of China last year, its investment in Didi seemed a worthwhile price for an expensive adventure cut short and a piece of the nation's booming tech scene. With Unicom, its new economy bet looks decidedly out of date.
To contact the editor responsible for this story:
Katrina Nicholas at knicholas2@bloomberg.net
Before it's here, it's on the Bloomberg Terminal.
LEARN MORE