It's been a lost decade for investors in the world's banks. For Europe's lenders in particular, the wounds are far from healed.
Just as in the U.S., the region's banks took a battering as markets froze over and losses from toxic loans mounted. While the U.S. moved quickly to recapitalize its lenders and allow them to purge their balance sheets of the worst debt through the Troubled Asset Relief Program, Europe didn't. Add in a sovereign debt crisis, an investors remained suspicious about European lenders' balance sheets long after the crisis abated. 
Now, firms are safer -- or, at least capital levels have increased and firms are less reliant on short-term funding. Look at how euro zone banks' use of money-market funds has reduced.
The amount of money banks lend relative to their deposits has also declined.
But revenue hasn't recovered. While the European Central Bank has rushed to offer cheap funding to lenders, record-low interest rates mean the rate they can charge consumers for new loans or mortgages has also been squeezed.
Costs as a proportion of revenue remain stubbornly high.
Return on equity, a measure of profitability, is a fraction of what it used to be.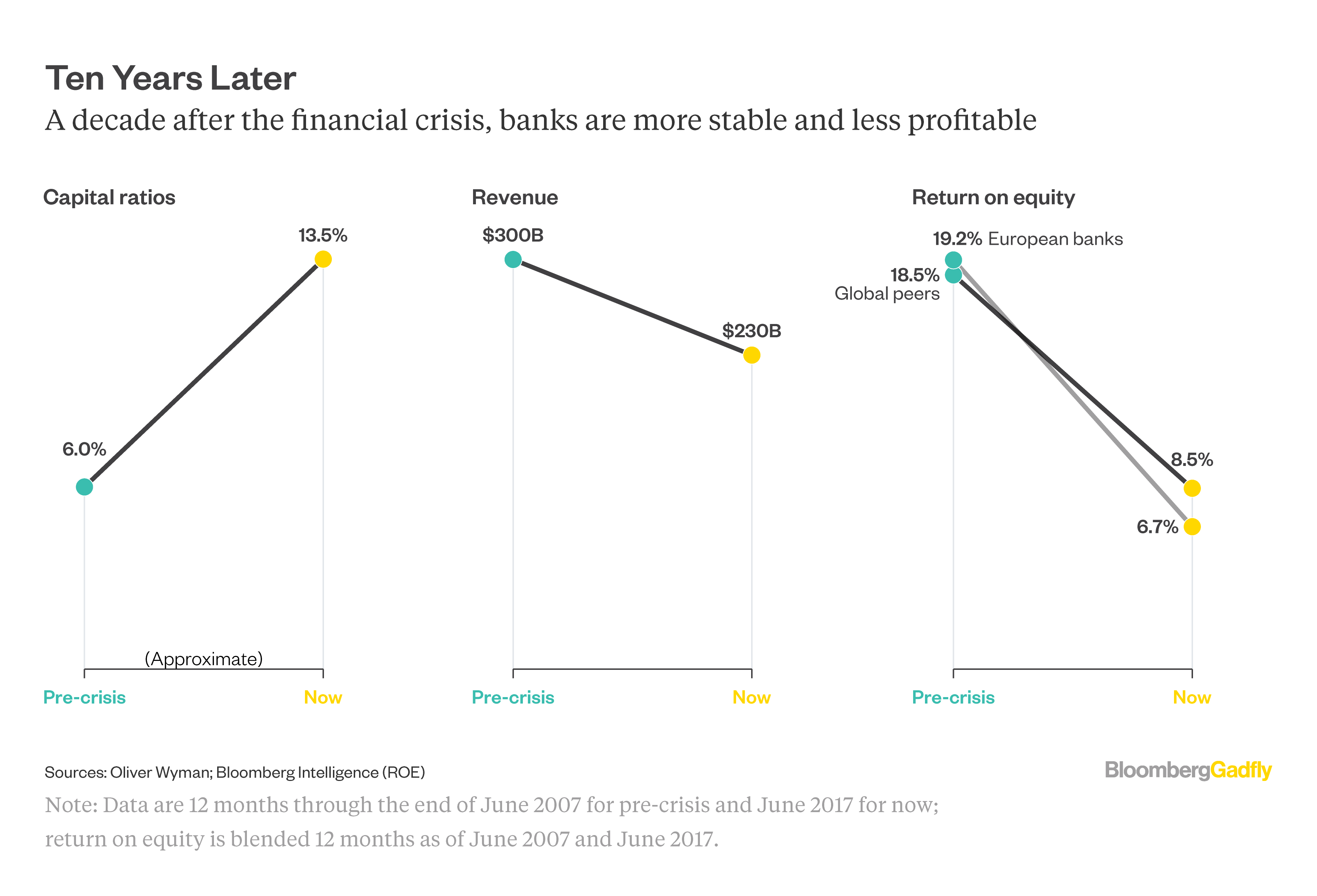 Europe's banking industry may be safer for taxpayers, but investors have had little reason to return to it since the crisis. There are signs lenders are starting to get to grips with their bad debt problem, and a rebounding economy should, in time, prompt the ECB to raise rates -- something that would finally provide some relief for the region's banks.
This column does not necessarily reflect the opinion of Bloomberg LP and its owners.
To contact the editor responsible for this story:
Jennifer Ryan at jryan13@bloomberg.net