For all the gushing about the music industry renaissance, investors have few ways to bet on the sector. Of the big labels, Universal Music Group and Sony Music are ensconced within conglomerate-style companies, while privately-held Warner Music Group only has listed bonds.
This will change if Vivendi SA sells a minority stake in Universal via initial public offering next year. Vincent Bollore, the tycoon who controls Vivendi, has been mulling this for months despite the questionable rationale. He seems to believe public markets are undervaluing its biggest unit, thereby hobbling Vivendi's share price.  
While that may be true, there are dangers here for Bollore. Investors could buy into the music recovery without needing to own Vivendi shares. Given that the Breton billionaire has essentially turned Vivendi into a family plaything, many might welcome the chance to dump a parent company that's made some puzzling decisions such as a value-destroying 3 billion euro ($3.5 billion) investment in Telecom Italia. Universal's been driving earnings growth at Vivendi recently. 
Despite that -- and all the rosy assumptions about music's future -- there's also no guarantee that markets will agree with Vivendi's boast that the music business could be worth as much as 20 billion euros.
Comparative valuation is made harder by a lack of listed peers, so people end up referencing multiples for TV and radio companies, and if they're feeling generous, add a dash of Netflix Inc. Among analysts covering Vivendi, there's about a 14 billion euro gap between the highest and lowest valuations. The range has widened since Vivendi made the "up to 20 billion euros" comment at its shareholder meeting in April -- the apparent figure given by banks pitching for the IPO.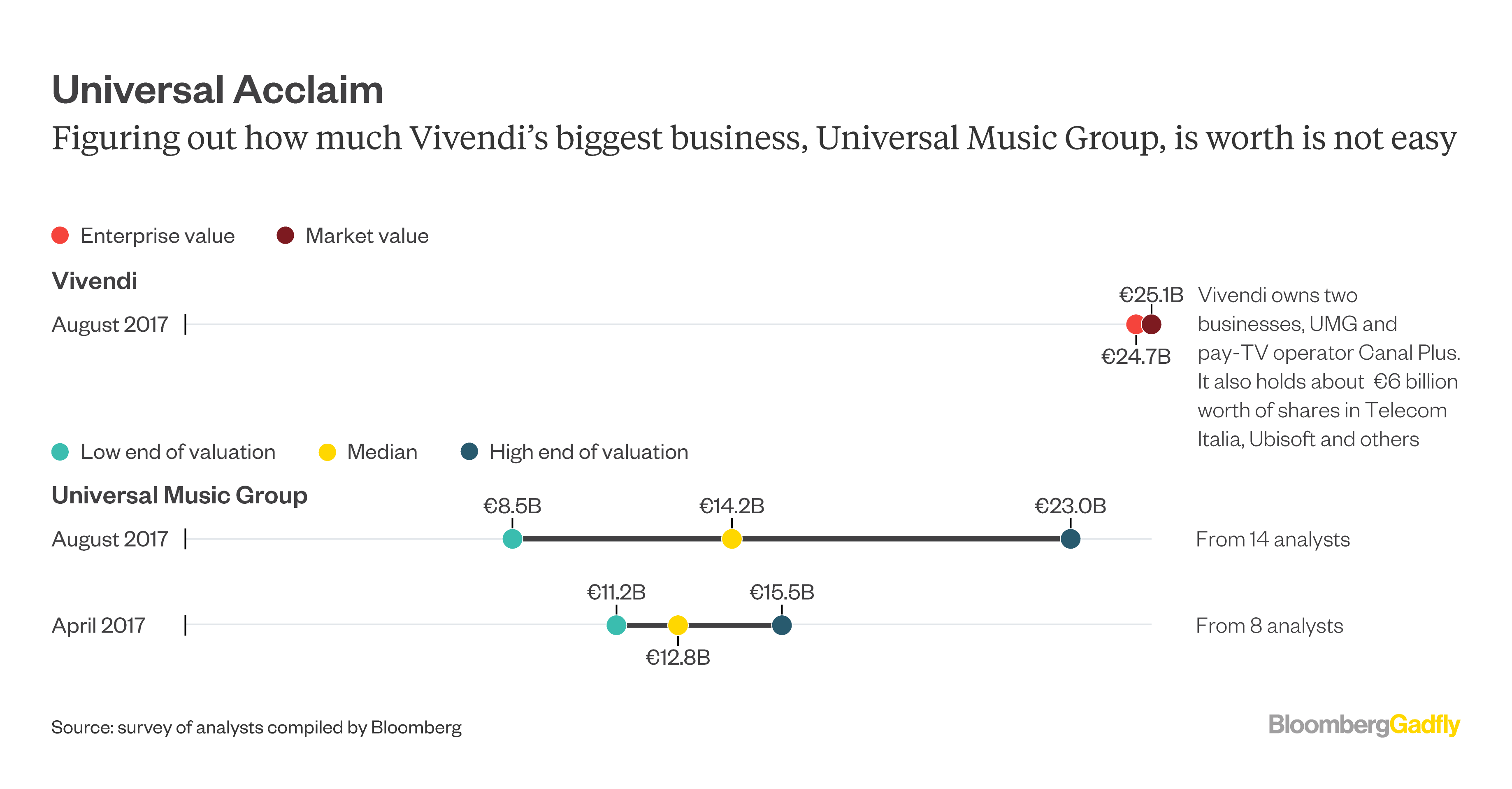 But music executives admit that predicting the labels' financial performance over the next five years is difficult. Just as the industry was upended by the web, it's in another transition period as streaming replaces CD sales and digital downloads.
Anyone betting that streaming royalties will lead to higher earnings needs to consider the following: 
Margins: Many assume that they'll rise as more music is distributed digitally. But they may fall at first given that labels will be paying for three different distribution methods -- physical, downloads and streaming -- for a while yet. Universal's operating margin improved to 12.2 percent in 2016 from 11.6 percent the year earlier. But Sony Music's fell to 12 percent in financial year 2017 from 14 percent before.
Marketing costs: While most promotional spending on a new Drake or Katy Perry album used to be targeted at the launch, streaming has changed all that. Labels have to market artists for longer to ensure their songs stick around long enough to make money. UMG's marketing spend might well rise.
New territories: Music sales have always been concentrated, with the top five markets accounting for 70 percent of the industry's $15.8 billion revenue last year. Sales in China, India and Brazil remain derisory because of rampant piracy. Surprisingly, streaming may let labels better monetize music in such markets.
Creative power: If labels do start making more money in the streaming era, they may have to split the gains with artists. Justin Beiber, Taylor Swift and Co. will want their share of the spoils.
These unknowns don't make a successful Universal listing impossible. But alongside the potential hit to the core Vivendi shares, Bollore has a ways to go to make Beliebers of us all.
Elaine He contributed graphics.
This column does not necessarily reflect the opinion of Bloomberg LP and its owners.
(Corrects the name of Sony's music division in the first paragraph.)
To contact the editor responsible for this story:
James Boxell at jboxell@bloomberg.net