Help for Housebuilders
Britain's Fat and Happy Housebuilders
Help to Buy has been a bonanza for the housebuilders. Time for companies to dip into their own pockets.
By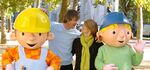 Ten years after risky mortgages helped spark a global financial crisis, lenders and policymakers have lost none of their talent for helping people make big-ticket purchases they couldn't otherwise afford.
True, 100 percent mortgages are rare now, let alone the 125 percent loan-to-value deals offered by Northern Rock. Fibbing about your income to get a loan is more difficult, though not impossible as Banco Santander SA has found.
Still, if you can't afford a shiny new BMW or Mercedes, no matter. Cheap leasing deals mean you can drive one with little money down. Meanwhile, mortgage rates have rarely been as competitive (thanks central banks!). There's just one problem in the U.K.: high house prices have made finding a deposit near impossible for many.
London's prime property may be suffering, but first-time buyers there still need more than 100,000 pounds ($130,000) on average for a first down payment. That's pretty daunting when your pay has stagnated and your rent keeps going up. Yet policies that might deflate property prices or make renting cheaper are poison for politicians hoping to get re-elected by baby boomers. 1
Instead, since 2013 the U.K. government has chosen to underwrite the housing market by offering a 20 percent home equity loan on new-builds. So the buyer only has to raise a 5 percent deposit and their mortgage payments are lower.
In theory, there's nothing wrong with policies that encourage new supply. There's a chronic shortage of homes in the U.K., which pushes up prices, and the idea has helped some people get on the housing ladder. But "Help to Buy" is flawed. Arguably it should be called "Help For Homebuilders."
The subsidies distort demand, propping up the market for new-build homes but doing very little to tackle price growth. Homebuilders are able to sell bigger, higher-priced houses without having to offer their own purchase incentives. 2
Investors know they're onto a good thing, as are the company bosses. British housebuilder stocks dropped last week after a report suggested Help to Buy might be wound down. But they've made up much of the lost ground after that prospect was played down by the government.
For many of the large listed homebuilders, Help to Buy accounts for about 40 percent of sales. At Persimmon PLC it's more than half. The policy has boosted homebuilder sales volumes by about 15 percent and profits would be 10 percent lower without it, UBS estimates.
But it's hard to see why the companies need this support. Their balance sheets are much stronger than a decade ago and most are returning large dollops of cash to shareholders. 3
Instead of rewarding shareholders, many of whom probably own a home or two already, perhaps they should be encouraged to use more of that cash to help buyers themselves. It's not such a radical idea. Previous subsidies such as FirstBuy forced builders to split the cost of providing home equity loans with the government. 4
Using the balance sheet to top up buyers' home equity "obviously wouldn't be our preferred option", Taylor Wimpey Plc said recently. No kidding. Shared equity would cut margins, notes Charlie Campbell, a Liberum analyst.
True, the government probably won't kick Help To Buy to the curb soon. Even the opposition Labour Party supports it. Yet the fat and happy homebuilders look out of step with the struggles of would-be homebuyers. Why shouldn't they have more skin in the game?
To contact the editor responsible for this story:
James Boxell at jboxell@bloomberg.net
Before it's here, it's on the Bloomberg Terminal.
LEARN MORE