Meet SunGard, a once-troubled LBO that's turned into a gift that keeps on giving. 
This weekend marks the two-year anniversary of Fidelity National Information Services Inc.'s agreement to purchase the financial software company for $9.1 billion, including debt. The cash-and-stock transaction delivered SunGard's seven private equity owners a return of more than 1.5 times their initial investment. That's an impressive result considering SunGard's struggles during the financial crisis as it shouldered its buyout debt load amid a drop-off in business. And it justified the firms' collective decision to extend their ownership beyond a decade in order to wait for a post-crisis recovery. 
Now, it's becoming clear that their white knight, better known as FIS, is reaping the benefits of its own SunGard deal in a much more timely fashion.
FIS's second-quarter earnings last week showed that its biggest acquisition on record wasn't just a sweetheart deal that delivered long-awaited profits to Blackstone Group LP, KKR & Co., TPG and the rest of SunGard's ownership group. The Jacksonville, Florida-based company lifted its earnings per share guidance, thanks in part to margin improvements tied to higher-than-expected annual cost savings from the takeover. And there's more where those cost synergies came from: FIS now forecasts annual savings in excess of $325 million, a figure that's well above initial -- and in hindsight, very conservative -- expectations of $200 million by the end of 2017.  
After analyzing the transaction, we at Gadfly give it a "polite clap," which is on the upper end of our grading scale. It could have earned an even higher "slam-dunk" rating if FIS hadn't paid such a steep price for it: the deal represented an EV/Ebitda multiple of 12.5, compared to a median of 7 for comparable deals, according to data compiled by Bloomberg. A lower purchase price would have likely reduced the amount of stock the company had to issue, leading to less dilution for existing shareholders.
On average, Wall Street analysts reckon FIS shares could climb another 10 percent in the next 12 months, consolidating an almost 40 percent gain since the SunGard deal was announced (roughly double the S&P 500 Index's 19 percent rally over the same period). As always though, there are risks: FIS could see its margin growth grind to a halt or even reverse course if banks' spending on technology unexpectedly declines or if the pace of consolidation among banks -- its core clients -- rises meaningfully.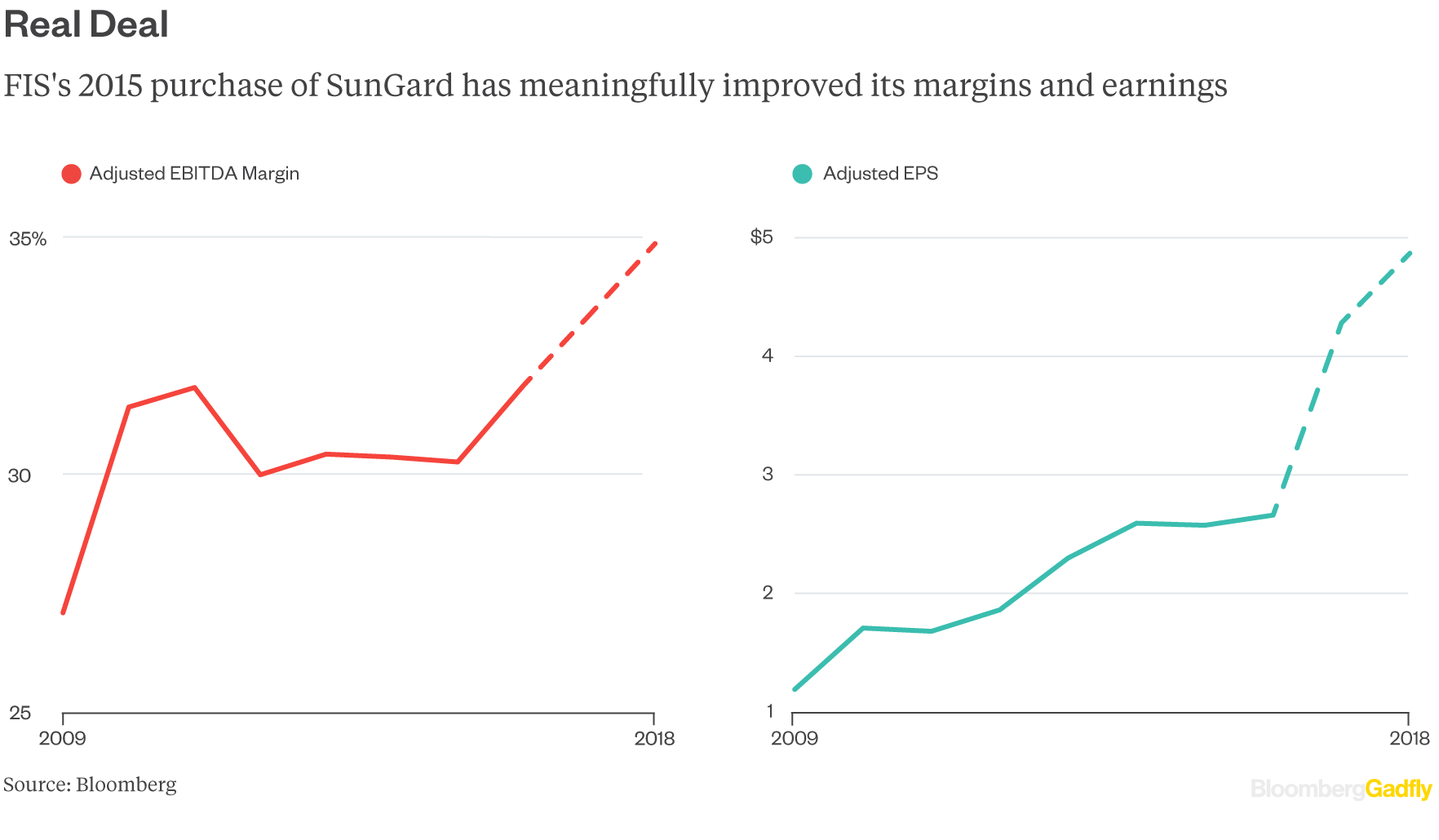 Months before FIS sealed the deal that thwarted SunGard's initial public offering plans, Chief Executive Officer Gary Norcross laid out a key ambition: "We want to find something that gives our markets or our businesses an opportunity to accelerate growth and return value to our shareholders." It's clear now that the SunGard deal met that bill and now Norcross is set to share in the spoils. He's one of five executives with a bonus linked to the transaction's success, which may explain in part why the initial cost synergy targets were so achievable.
To be precise: If the recently-revised projection of more than $325 million in annual cost savings is met, Norcross will earn a total of $16.6 million or roughly 90 percent of his maximum $18.5 million cash bonus. Other executives -- Chairman Frank Martire, CFO James Woodall and co-COOs Marianne Brown and Anthony Jabbour -- will share $37.2 million, or 90 percent of a combined $41.4 million maximum. (They've already received a combined $23.9 million.)
Despite the bonus bonanza, FIS's balance sheet has improved since the purchase. Not only has it been able to pay down debt, alleviating concerns by some rating agencies, but last week, the company announced a $4 billion share buyback program.
Norcross has been transparent about his willingness to do more deals. Once FIS's debt levels retreat, the company will continue its search for targets that are likely to beget strong returns for shareholders and make strategic sense -- specifically, those that help the company broaden its product or service offerings in existing markets, enter adjacent markets within financial services or both. Bankers should prepare their pitches for the next SunGard. 
-- Cedric Sam assisted with charts
This column does not necessarily reflect the opinion of Bloomberg LP and its owners.
To contact the editor responsible for this story:
Beth Williams at bewilliams@bloomberg.net