10 Years On
Euro High-Yield Looks Frothy
Narrowing spreads call for care from central banks on withdrawing stimulus.
By and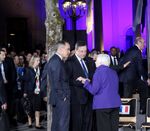 Ten years ago this week, BNP Paribas suspended redemptions from three hedge funds and effectively ushered in the credit crisis. The intervening decade has seen central banks pump trillions of dollars, euros, pounds and yen into financial markets in an effort to keep the global economy afloat. As a consequence, investors have found themselves chasing yields lower.
Spreads on high-yield debt denominated in euros have just marched below what investors charge the U.S. government to borrow for a decade. And while this may seem like comparing apples and pears, both are effectively measures of appetite for risk -- and boy, are investors taking a risk.
The 10-year Treasury yield is still the global benchmark for borrowing costs, and remains the closest thing the world has to a risk-free rate. The euro high-yield spread, meantime, measures how willing corporate bond investors are to chase ever-diminishing yield premiums in the common currency. Moreover, the last time the two measures crossed for any length of time, it didn't end so well.
The European Central Bank forum in Sintra, Portugal in June saw the world's leading central bankers send out what some interpreted as a coordinated message on the forthcoming end of stimulus. The Kansas Federal Reserve economic symposium at Jackson Hole on Aug. 24-26 will lay out a framework for key upcoming central bank meetings.
Central banks are poised to start unwinding at least some of the unprecedented emergency measures the credit crisis prompted them to introduce. The ECB is expected to address slowing its various quantitative easing programs when it next gathers on Sept. 7. The Fed meets Sept. 19-20 and will discuss tapering its static holdings by reducing re-investment of coupons and maturing bonds.
Slow and gradual withdrawal is the message, but the direction of travel is changing after almost a decade of unprecedented stimulus. Risk spreads ought to reflect that changing environment. They don't -- which should give central banks a reason to be ever so gentle in unhooking the world's financial system from life support.
To contact the editor responsible for this story:
Jennifer Ryan at jryan13@bloomberg.net
Before it's here, it's on the Bloomberg Terminal.
LEARN MORE