Doing Fine, Honest
Sprint Is Not at All Desperate for a Buyer, Nope
One quarter of relief doesn't mean the struggling carrier can stand alone.
By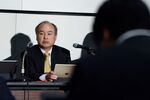 SPRINT CORP
+0.03
At Closing, June 15th
CHARTER COMMUNICATIONS INC-A
+1.59
At Closing, June 15th
Read between the lines of Sprint Corp.'s quarterly results statement, and it says, "Please buy us."
The actual headline was that the struggling wireless carrier finally made money for the first time in three years. It's a positive development, but one that also reminds investors just how far behind Sprint had fallen. The stock rose in early trading, but you'd be wrong to think this means Sprint is out of the woods. 
In June, Sprint began offering new customers -- namely Verizon Communications Inc. defectors -- a year of free service. Yes, free. And yet it still lost 39,000 customers during the quarter that ended that month -- a huge disappointment, as analysts were predicting a substantial gain instead.
This underscores the challenges Sprint faces: Not only does it need to shore up its finances, it needs to fight a perception among consumers that it's the industry stooge. Next quarter's results will be the real test -- is not even a free Sprint service appealing to customers? 
Tuesday's results also don't bode well for Masayoshi Son's hunt for a deal that will alleviate his Sprint headaches. Son's SoftBank Group Corp. of Japan controls Sprint, and he's been experiencing buyer's remorse ever since making the investment and flushing billions of dollars down the Sprint cash drain. He's reportedly been trying to unload Sprint to just about anyone -- John Malone and his Charter Communications Inc., Comcast Corp., even Warren Buffett.
Son has taken a particular liking to Charter lately, but the cable giant slapped him down with this caustic comment this week:
We understand why it is attractive for SoftBank, but Charter has no interest in acquiring Sprint.
Son's not giving up, though. He now wants to buy Charter. And sure, why not? It's only worth $107 billion. Bloomberg News reports that Son even has as much as $65 billion in financing lined up for a deal. But we at Gadfly just don't see how it happens, not least because Charter is probably laughing the whole thing off. 
Sprint's last best hope for a deal is to merge with T-Mobile US Inc., which would be compelling for both sets of shareholders. It had better hurry, though. Stalking Charter is just giving T-Mobile more time to find better options. 
To contact the editor responsible for this story:
Mark Gongloff at mgongloff1@bloomberg.net
Before it's here, it's on the Bloomberg Terminal.
LEARN MORE