Existential Serenity
How Carmakers Can Survive the Combustion Engine's Death
Automakers can survive the shift to electric cars.
By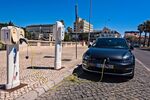 DAIMLER AG-REGISTERED SHARES
-0.84
At Closing, June 15th
PEUGEOT SA
-0.19
At Closing, June 15th
The U.K. has joined France in promising to ban sales of petrol and diesel vehicles from 2040 in a drive to improve air quality and cut planet-warming emissions. When two of Europe's largest economies pledge to abolish technology that's sustained the car industry for more than a century, it's only natural that investors might fear this poses existential challenges for the industry.
But while the switch from combustion engines to electric motors will entail some near-term financial pain for carmakers (and some of their suppliers), in the long term it might actually be beneficial for profits. And Europe's manufacturers are more resilient than you might think.
Today fully electric vehicles account for less than one percent of new car sales in the European Union. Getting that figure near 100 percent within two decades will of course require billions of euros of investment (especially in charging infrastructure). The electric spending taps have already been turned on: figures published on Wednesday showed Daimler AG's research and development spending jumped 19 percent in the first half of 2017 compared to the same period a year ago.
Regulators have put the industry in a bind because they're forcing investment to make existing combustion engines more efficient. Daimler only recent spent 3 billion euros ($3.5 billion) on a new family of diesel engines. Yet this technology could become obsolete fairly quickly-- especially if carmakers lose a public relations battle to rescue diesel's reputation. The risk that they'll one day have to write down combustion engine assets isn't neglible, as I explained here.
An inflection point could come around 2025, when Bloomberg New Energy Finance thinks electric vehicles will start to become price competitive with combustion engine cars (without subsidies). Due to lower operating costs, sales of electric vehicles should then start to accelerate rapidly. This could start to impact the resale value of petrol and diesel vehicles long before any government sales ban comes into force. 
Berenberg analysts say a 20 percent drop in combustion engine vehicles' residual values is conceivable, which would threaten automakers' leasing businesses, currently a rich source of profits. Daimler finances half of its car sales and its finance unit generated a stonking 19 percent return on equity in the latest quarter.
So where's that silver lining I was talking about? Firstly, carmakers aren't nearly as weak as their share prices might have you believe. Buoyant demand helped Daimler generate three billion euros of free cash flow in the first six months of the year, while rival PSA Group Ltd. boasted more than 13 billion euros of cash and equivalents at the end of June. It also achieved a 7.3 percent operating margin, a pretty extraordinary feat for a mass-market manufacturer. 
These are very decent buffers to have, given the high expenditure that'll be required in the coming years.
And once they've gotten past the initial investment hump, electric vehicles should start to cost less to produce than a combustion engine car: battery costs are dropping fast, there's far less mechanical content required in an electric car and probably fewer workers will be needed to make it.
Exane BNP Paribas analyst Stuart Pearson says electric vehicles could achieve an operating return on sales of more than 10 percent as soon as 2025 -- better than the profitability of a typical combustion engine car.
So there's reason to think carmakers should survive the demise of combustion. But will workers? Although the U.K government was relieved Tuesday when BMW AG promised to produce an electric version of the Mini in Oxford, the car's electric drive system will be built in Germany. Banning combustion petrol and diesel car sales is one thing, ensuring Britain secures the jobs created by the car industry's electric revolution is quite another.  
To contact the editor responsible for this story:
Jennifer Ryan at jryan13@bloomberg.net
Before it's here, it's on the Bloomberg Terminal.
LEARN MORE