If you're trying to put out a fire caused in part by Western bankers having doubts over who really controls your company, it's a good idea to avoid giving the sort of interview that HNA Group Co. Chief Executive Officer Adam Tan gave to the Financial Times this week.
Shares were able to be passed easily between banker Bharat Bhise, an investor called Guan Jun, and HNA's new largest shareholder, the U.S. charity Hainan Cihang Charity Foundation Inc., because the first two parties never really controlled the stock in the first place, the newspaper quoted him as saying:
"The [29.5 per cent] stake is our [HNA's] own stake. For the whole time. They [Mr Guan and Mr Bhise] had just held the stake for us. That's why I can move the shares," Mr Tan said.
It's hard to overstate what an own-goal this represents.
The reason that the likes of Bank of America Corp., Citigroup Inc. and Morgan Stanley are now holding HNA at arms' length is precisely because of difficulties getting internal approvals under "know your customer" rules, people familiar with the matter told Bloomberg News last week.
Such rules, set up to comply with anti-money-laundering regulations, are based on the idea that banks have to know who really controls a corporate entity and understand the sources of its funds. By stating that Guan and Bhise weren't the ultimate beneficial shareholders but "just held the stake for us," Tan is making it a whole lot harder to convince compliance officers the company's statements can be trusted.
This isn't just a matter of things said to journalists. Have a look at the third-quarter 2015 earnings report of Aid Partners Capital Holdings Ltd., a company listed on Hong Kong's secondary Growth Enterprise Market that operates an HMV music store in the center of the city and counts an HNA subsidiary as its largest shareholder.
Bharat Bhise is named on the regulatory document as the beneficial owner of a stake equivalent to about 12 percent of the entire company, via a web of intermediary firms: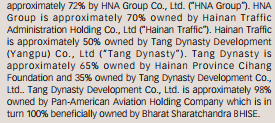 Fast-forward 18 months to Aid Partners' most recent quarterly report filed in May, and Guan is named with the same-sized holding atop a more or less identical corporate pyramid:

Or take the document that HNA submitted to Swiss regulators last year in connection with its takeover of airline catering business Gategroup Holding AG:

In all of these instances, there's no suggestion that Bhise or Guan are fronts for a circular shareholding controlled by HNA itself. Indeed, the statements in Aid Partners' reports that the two men are "beneficial owners" flatly contradicts the idea that any entity other than Bhise and Guan is responsible for controlling the shares.
Numerous journalists, including Gadfly, have spent many months poking delicately at the notion that Guan and Bhise might be bai shoutao -- so-called "white gloves" shareholders who hold the stock on behalf of the real investors, whose identities aren't disclosed. The caution comes from the fact that the notion is explosive, and hard to prove definitively. For HNA's CEO to come out and seemingly admit as much in an on-record interview says something about how far the company's internal world view differs from that of the Western banks that HNA should now be doing its best to placate.
There was a time when know-your-customer was treated by many lenders as a box-ticking exercise: Get the names and addresses of key shareholders, run them through a database of terrorists, dictators, organized criminals and other questionable characters, and you're basically good to go.
That's no longer the case. After the billions of dollars in fines meted out to HSBC Holdings Plc, Standard Chartered Plc and Royal Bank of Scotland Group Plc over the past decade for violations of U.S. sanctions on Iran and (in the case of HSBC) laundering money for Latin American drug cartels, the balance of risk and reward has shifted.
If bank compliance officers can't get comfortable that a company's owners and sources of funds are the same as the ones claimed, they're no longer going to engage. A multimillion-dollar fee for advising on a major transaction is all very well, but if there's the possibility of a multibillion-dollar fine a few years down the line, the attraction starts to fade.
Tan has poured gasoline on the compliance fire now licking at HNA's feet. Only more comprehensive disclosure will be sufficient to douse it.
This column does not necessarily reflect the opinion of Bloomberg LP and its owners.
To contact the editor responsible for this story:
Katrina Nicholas at knicholas2@bloomberg.net