Retreat from Russia
Uber's Napoleon Moment
Russia withdrawal is smart, but the company is in limbo as other big decisions loom.
By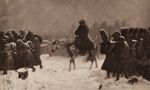 He probably wouldn't agree, but it's fortunate in one way for Travis Kalanick that he's no longer in charge of Uber Technologies Inc. At least he won't have to deal with the inevitable Napoleon comparisons that would have come his way this week.
Just like the French military leader, Uber has had to beat a hasty retreat from Russia. After a similar withdrawal from China, it's clear that world domination doesn't come easy, even for a company that revolutionized the way people get from A to B.
That said, Uber's sale of its Russian ride-hailing business to local search giant Yandex NV is the smart thing to do. It is strategically backing away from an unwinnable market, where the government favors domestic players. 
This is similar to last year's China exit, when Uber sold to Didi Chuxing. The California-based company will keep a 36.6 percent stake in a newly merged Russian business, valued at $3.7 billion after capital injections from both parties. Since Russia isn't nearly as big a market as China, handing over to Yandex probably won't cut Uber's losses by much. Uber told the Financial Times it had lost about $170 million in the Russian market overall. Chinese losses were in the billions.
The New York Times reported that the Yandex deal was largely negotiated before Kalanick was deposed. This highlights the malaise at Uber. Other profound questions need to be answered about its future, but the toppling of its founder after a string of scandals leaves it in a strange limbo. It needs to hire a CEO, general counsel and chief financial officer. It's hard to imagine a strategic decision as big as the Russia deal being made now. There's no one to make it.
If Uber has become less ambitious globally, that has very big implications. India is another market with well-funded and tenacious competitors. Local operator Ola raised $250 million from Softbank in April. Uber might have to swallow a painful truth: that smartphone-powered ride-hailing businesses don't have high competitive barriers. It's not a winner-takes-all market. 
Its go-it-alone approach on self-driving car research also looks a little quixotic given the competition from the autos and tech industry giants. The purchase of Otto, a self-driving truck company, has turned into an expensive legal distraction after Google parent Alphabet Inc. claimed that Otto's founder stole its trade secrets.
Maybe a more collaborative approach to autonomous vehicle development would help. Uber's main U.S. competitor, Lyft Inc., has teamed up with Google's Waymo and General Motors Co. Kalanick would no doubt hate the idea of being like modest little Lyft, which was valued at $7.5 billion in its last funding round. 
A re-calibration of Uber's ambitions might make its investors anxious too. You need an awful lot of expectation to justify a valuation of about $69 billion valuation. Roughly $15 billion of private capital was meant to power it to dominance. A more modest, kinder Uber may not be the world-changing force that Kalanick wanted it to be. Investors might have cause to regret it too.
To contact the editor responsible for this story:
James Boxell at jboxell@bloomberg.net
Before it's here, it's on the Bloomberg Terminal.
LEARN MORE