Cyber Aware
Fast Retailing Must Pick Up the Pace
The Uniqlo clothing brand owner has invested too much in building a physical retail presence.
By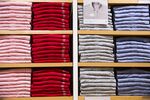 FAST RETAILING CO LTD
+410.00
At Closing, May 25th
AMAZON.COM INC
+7.08
At Closing, May 25th
Fast Retailing Co. needs to get a move on. 
The owner of Uniqlo, Theory and J Brand clothing ranges became the world's third-largest apparel maker by delving into fast fashion before it was even in style. It used a large bricks-and-mortar store network in Japan to trot out new looks ahead of competitors, and then exported that model around the world.
But as Fast Retailing's home market sputters and profits overseas slow, it's become clear the company has spent too much time and money on physical retail instead of responding to the way consumers are shopping today.
Investors are taking notice: Shares in Fast Retailing are down 13.4 percent this year, compared with a 5.2 percent increase in the Nikkei 225.
Third-quarter earnings out Thursday came in 20 percent lower than analysts tracked by Bloomberg were expecting, even as overall revenue got a bump from a recovery in Asia and additional store openings.
But while new locations are helping the top line, Fast Retailing is generating fewer sales from each extra store.
There are signs the Japanese firm is aware of what's at stake.
In the most recent quarter ended May, online sales rose 17 percent from the year prior. Earlier this week, executives told the Nikkei Asian Review that a planning phase started in 2015 to overhaul the company's e-commerce operations is finished, and the focus has now shifted to idea implementation. In two years, billionaire Chairman Tadashi Yanai said he would "show the world a new Uniqlo."
The problem is, five-year plans might work a treat for governments but they tend to fall apart quickly at retailers tasked with responding to rapidly shifting consumer tastes. By the time Uniqlo gets its e-commerce operations up and running, Amazon.com Inc. and Alibaba Group Holding Ltd. might be delivering by drones, or putting personal robots in dressing rooms.
Just look at Wal-Mart Stores Inc., which kept paying lip service to online sales while Amazon pretty much slurped up all the e-commerce dollars in America. It wasn't until Wal-Mart's annual sales shrank for the first time ever last year that the controlling family and board members got serious about spending shareholder money to truly compete. 1
Amazon is already moving in on Japan, where Fast Retailing generates 48 percent of its revenue. Rakuten Inc. and Yahoo Japan Shopping rule the rest of the country's $80 billion in online sales, and Alibaba's Taobao isn't far behind. As e-commerce expands in Japan and around the world, Fast Retailing's competitors, including Inditex SA's Zara and Hennes & Mauritz AB, are ramping up, too.
It's perhaps understandable why Yanai is taking his time.
With about 56 percent of Fast Retailing controlled by family interests associated with Yanai plus other related companies, and passive asset managers holding the bulk of the rest, there's little room for activist investors, who are increasingly finding success targeting venerable Japanese companies.
But if Yanai doesn't pick up the pace, he could see his retail empire start to crumble.
For now, Fast Retailing is moving in the right direction. It's just not scooting along quickly enough.
To contact the editor responsible for this story:
Katrina Nicholas at knicholas2@bloomberg.net
Before it's here, it's on the Bloomberg Terminal.
LEARN MORE