Earnings Sacrifice
Pearson's Penguin Pain
Sale sacrifices earnings to prop up company's balance sheet.
By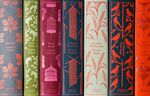 The compensation for traveling with Pearson Plc on its meandering journey to being the company it wants to be was the dividend. It now looks like the rewards for hanging around for the educational publisher's reinvention are going to be much smaller.
Pearson needs to raise funds to strengthen its financial position amid a restructuring of its core education business in the U.S. That unit is feeling the pinch as learning habits shift online and high book prices force students to rent or buy second hand. Amazon.com Inc. is encroaching on the market, too.
So Pearson is selling nearly half of its 47 percent stake in Penguin Random House, the book publisher owned with Bertelsmann SE & Co KGaA, to its German partner for about $781 million.
Penguin will then borrow about $1.1 billion and pay dividends to Pearson and Bertelsmann in line with their shareholdings. The sale proceeds and payouts will leave Pearson with $1 billion in cash and a 25 percent stake in the publishing business.
The price isn't great -- just 6.7 times trailing Ebitda, at the lower end of market expectations, according to analysts at Liberum. That reflects that Bertelsmann is the only buyer.
Worse, the move cuts the profit stream Pearson gets from Penguin in half. Pearson will mitigate the impact on earnings per share by buying back stock to reduce its share count.
The snag is it is only deploying 300 million pounds ($387 million) for this purpose, while keeping back 480 million pounds to bolster the balance sheet. So the overall transaction will reduce earnings by almost 8 percent, all things being equal.
In turn, Pearson is signalling that dividend will be sharply lower. Extrapolating from the policy articulated, this would be in the mid- to high-teens pence, implying a 2 percent dividend yield, Liberum notes. Prior to January's profit warning, the stock yielded about 6 percent.
Pearson could have sold the whole of its stake, or kept it and pushed for a bigger capital return. The halfway house is designed to deliver as much financial strength as possible while minimizing dilution. It has struggled to square the circle.
The vision for Pearson is of a publishing company at the forefront of digital education that is simpler and not in permanent restructuring. With earnings and dividends shrinking, there's not much short-term reward for buying into that.
To contact the editor responsible for this story:
Edward Evans at eevans3@bloomberg.net
Before it's here, it's on the Bloomberg Terminal.
LEARN MORE