Warren Buffett finally pulled the trigger on a deal, and in true Oracle fashion, he got it for a decent price.
But even at $9 billion, the takeover of Oncor Electric Delivery Co., announced on Friday, lacks the usual excitement of a Buffett purchase -- it's an electric utility, after all -- and is tens of billions of dollars shy of the mega-deal Berkshire Hathaway Inc. shareholders have anticipated for more than a year.
Costco Wholesale Corp., 3M Co. and Hershey Co. are closer to the kinds of names investors had in mind for Berkshire's next big transaction, as its cash pile grows uncomfortably high.
As a Gadfly analysis showed in May, such companies would make for the kind of splashy deal Buffett, 86, needs as he prepares to hand Berkshire's reins to a successor. But it seems investors will just have to keep waiting and speculating about the big deal that could be Berkshire's biggest yet. For now, they get Oncor -- a good asset, but a bit of a snooze.
Berkshire, a conglomerate that generates about 12 percent of its roughly $34 billion of pretax income from energy operations, is acquiring Oncor's parent, the once-bankrupt Energy Future Holdings Corp. The history of Energy Future, formerly known as TXU Corp., is interesting for unfortunate reasons: It was the subject of the biggest leveraged buyout in history, led by KKR & Co. and TPG Global back in 2007. Needless to say, the private equity firms had terrible timing, with energy prices collapsing thereafter. During the reorganization, Oncor was on the block for a couple of years, bouncing between possible buyers, with Berkshire lurking.
But this is merely another bolt-on deal for Berkshire Hathaway Energy and the division's chief, Greg Abel, who may be in the running to succeed Buffett. Oncor, with a network of electric distribution and transmission lines serving about 10 million Texans, earned $431 million last year. The acquisition comes about four years after Berkshire paid $5.6 billion for NV Energy Inc. of Nevada, adding to its investments in stable, recession-resistant energy businesses. Berkshire also has utilities along the West Coast and in the Midwest of the U.S., along with pipelines and wind and solar projects.
Buffett appears to be banking on two things. First, Oncor's bankruptcy has dragged on for years, partly because Texas utility regulators have blocked previous bids by Hunt Consolidated Inc. and NextEra Energy Inc. Second, Berkshire Hathaway Energy is exactly what those regulators wanted in a buyer: a well-capitalized utility holding company that won't put pressure on Oncor to fund big dividends further up the chain.
What Berkshire is paying implies a total equity value for Oncor of $11.25 billion, 8 percent less than NextEra's offer. What it gets is a major wire network with scope for investment -- and thereby, growing, regulated returns -- after years of minimal spending. Given Berkshire's heft and favorable profile for regulators and the history of other, busted deals, a rival bid looks a tall order -- though Energy Future's creditors may well try to rustle one up.
Still, it takes a lot these days to move Berkshire's stock, and a bolt-on deal just doesn't cut it, even though the transaction makes sense and the price was right. Berkshire's class A shares, which trade for $255,450 apiece, briefly posted a tiny gain Friday morning before slipping. They're up less than 5 percent on the year, trailing the S&P 500 and headed for their second-worst annual performance in six years (the shares fell in 2015). 
Berkshire had $96.5 billion in cash as of March; spending $9 billion barely puts a dent in that figure. In fact, Berkshire's operations generated double that amount in net cash flows in the first three months of 2017 alone.
Most people joke that too much cash is the kind of problem they'd love to have, but for Buffett it really is a nuisance (there's a Gadfly video about this here). Long opposed to paying a dividend, Buffett would hate to have to resort to one in his final years at the helm, when doing so would be an admission that the world's most successful dealmaker can't find a worthy deal. But he conceded in May that this was a possibility. 
The chart below (from a May column) shows there are still some big, attractive targets that make strategic and financial sense for Berkshire. But companies have gotten more expensive and the M&A environment is much more competitive now. Buffett may need to pay up more than he'd like.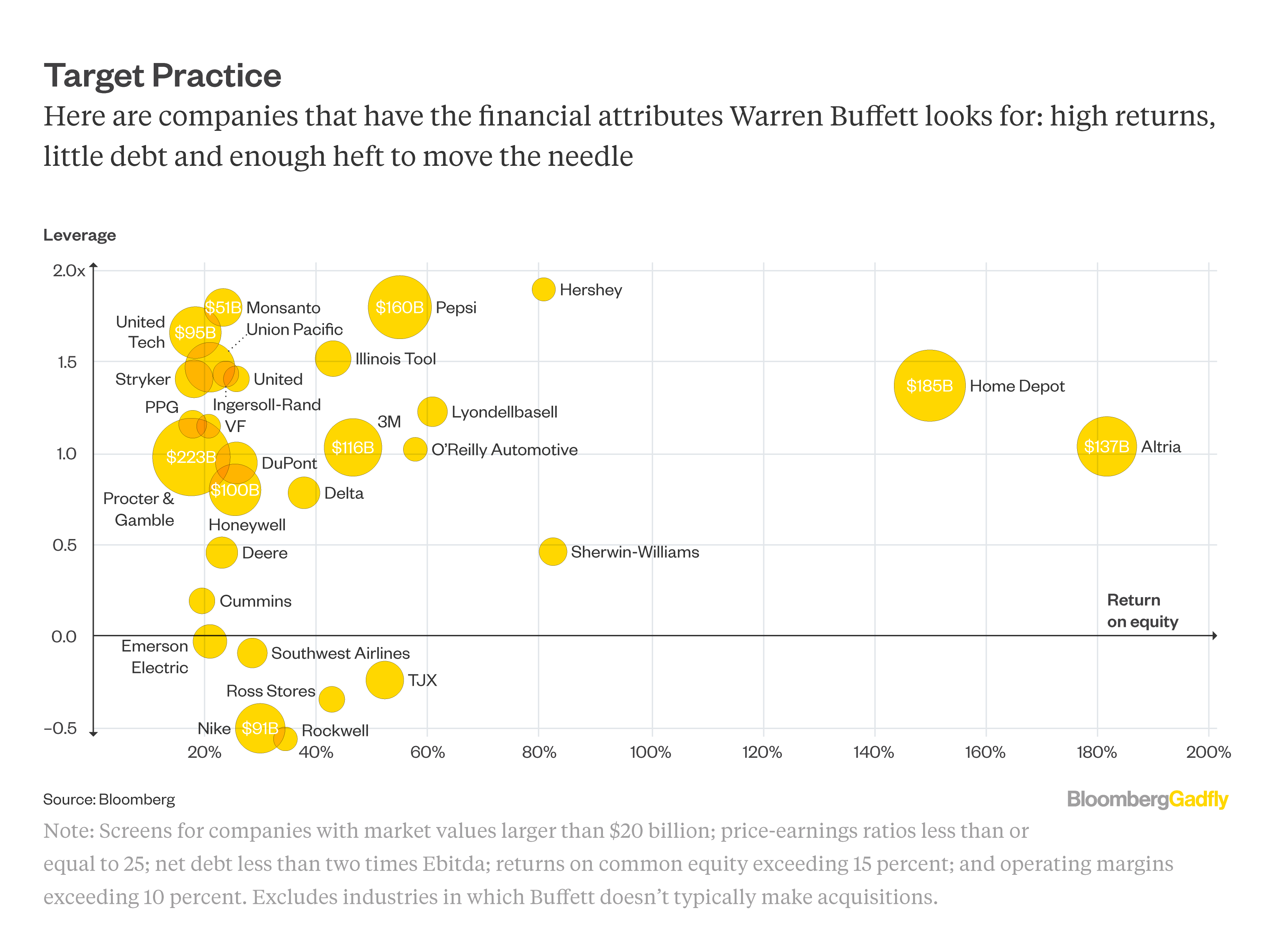 This column does not necessarily reflect the opinion of Bloomberg LP and its owners.
To contact the editor responsible for this story:
Mark Gongloff at mgongloff1@bloomberg.net