renault in china
A Brilliant Chance at Reinvention
Buying into the money-losing minivan business makes strategic sense.
By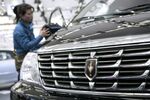 You can imagine how that breakfast meeting might have gone when Renault SA President Carlos Ghosn met his team to consider the purchase of almost half of Brilliance China Automotive Holdings Ltd.'s money-losing minibus unit.
"It's cheap!" Ghosn's banker would say, passing the croissants and jam. "We get a 49 percent stake for just 1 yuan."
"You get what you pay for," Ghosn might have shot back while poring over the unit's losses of 1.1 billion yuan ($162 million) in the past two years and 3.6 billion yuan in liabilities as of the end of 2016.
At first glance, the appeal for Renault may be hard to fathom. Remember, this isn't the stellar BMW business Brilliance is known for running profitably for years, but a tiny division that makes the bulky white vans with blacked-out windows that tend to appear on television crime dramas. Not only will the French carmaker inherit an unpopular, profit-bleeding unit that hasn't increased revenue for almost 20 years, it will have to cough up part of the 1.5 billion yuan the two partners agreed to invest.
Yet, the deal announced Wednesday was actually pretty, er, brilliant.
For one, Renault is one of the few foreign carmakers with only one Chinese joint venture, limiting its business in the world's largest car market. And that partnership is with Dongfeng Motor Group Co., which already has five other foreign tie-ups, the most of any Chinese carmaker. So it's not like Renault shoots up to number one on the speed dial when it needs something.
Brilliance's roots as a state-owned auto factory with strong ties to the local government also play well for Renault, which needs to be in Beijing's good graces to expand further in the country. 1  Think of Wednesday's deal as a down payment to ensure future growth across all its businesses in China.
And although Brilliance's minivan business was barely scuttling along at around 5 billion yuan in annual revenue, the overall trajectory for the light-commercial vehicle market is a positive one, accounting for more than 3 million vehicles a year. The Ford Transit alone sold 62,000 units in the last 12 months, points out Sanford C. Bernstein analyst Robin Zhu.
Renault is an old hand at turnarounds.  In 1999, it bailed out Nissan Motor Co. and completely retooled the way the company operates. Renault's current 43.4 percent stake in the Japanese carmaker is now worth more than three times the purchase price. And just last year, Ghosn put another rescue package together for Mitsubishi Motors Corp., paying $2.2 billion for a controlling stake in the company after a fuel-efficiency scandal sent shares plunging.
Plus, it's not like Brilliance is a poorly run company. Its shares have soared by 70 percent in the last year, as production of the redesigned 5 series BMW sedan zooms ahead. It's just that the company looked at the minivan unit as an ugly stepchild to be ignored.
There's little chance of an overnight miracle that revives the minivan business, but the Renault partnership, like a healthy morning breakfast, is a good start.
To contact the editor responsible for this story:
Matthew Brooker at mbrooker1@bloomberg.net
Before it's here, it's on the Bloomberg Terminal.
LEARN MORE