No Pearl
Paying the World for Worldpay
Justifying such a steep bid premium isn't going to be easy.
By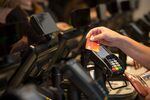 APPLE INC
+0.43
At Closing, May 25th
JPMORGAN CHASE & CO
-0.57
At Closing, May 25th
Payments specialist Worldpay Group Plc just got a whole lot more expensive for potential acquirers. Justifying the outlay will probably require patience and long-term reinvention, rather than the quick and easy cost savings some investors prefer.
Shares of Worldpay jumped as much as 29 percent Tuesday after the company said it had been approached by U.S. rival Vantiv Inc. and JPMorgan Chase & Co. about a potential takeover. The expected bid premium looks clean indeed, close to the industry's traditional 30 percent.
While there isn't any certainty of an offer, Worldpay is now seen as in play and carries a high price: It trades at 30 times forward earnings and its enterprise value is 16 times forward earnings before interest, tax, depreciation and amortization, more than Vantiv and Denmark's Nets A/S.
What would justify the excitement?
The payments sector is growing, for one thing, and is ripe for consolidation. Once little more than processing utilities owned by banks, players are now capable of capturing spending growth online and via smartphones. Mobile payments are expected to expand at double-digit rates through 2020, according to CapGemini. Buying this growth through acquisitions is already happening, and the recent arrival of deep-pocketed buyers from the technology industry, like Apple Inc., no doubt helps.
But there's still likely to be some complexity here for a buyer such as Vantiv or JPMorgan, especially when it comes to integrating the business and extracting cost savings.
Worldpay's profit power comes mainly from its domestic U.K. and global e-commerce operations; its U.S. presence is relatively small. The in-store U.K. payments arm may be a reliable cash cow, with a 42 percent market share, but it's hard to see how having a U.S. owner would be an advantage. Britain is a fairly specific market, fueled by debit-card spending, and it's a story of cross-selling and targeting small businesses.
Perhaps the more obvious draw is Worldpay's high margin e-commerce offering for multinationals, which last year saw total transactions jump 30 percent to 5 billion, boosting revenue by 22 percent. This is a business that is fairly intensive in terms of R&D spend, according to Exane BNP Paribas. Perhaps a buyer like Vantiv could pool spending with Worldpay and cut overlap where they cater to the same clients.
But ultimately, if a 30-percent bid premium is to be sold to investors, a simple story of revenue growth won't cut it. Worldpay's U.S. arm is too small and its U.K. unit too localized to offer any significant synergies. A longer-term strategy could play up e-commerce and transaction data, both valuable and lucrative areas. But any payoff there could take years to achieve.
The buzz surrounding payments processors has some substance. Buying Worldpay could be a first step toward creating a global, rather than national or regional, payments firm. But that alone won't make justifying a steep bid premium any easier.
To contact the editor responsible for this story:
Katrina Nicholas at knicholas2@bloomberg.net
Before it's here, it's on the Bloomberg Terminal.
LEARN MORE