Hired Help
It Takes an Army to Feed the World's Amazon Addiction
Global domination takes a lot of bodies.
By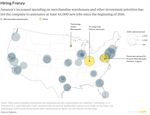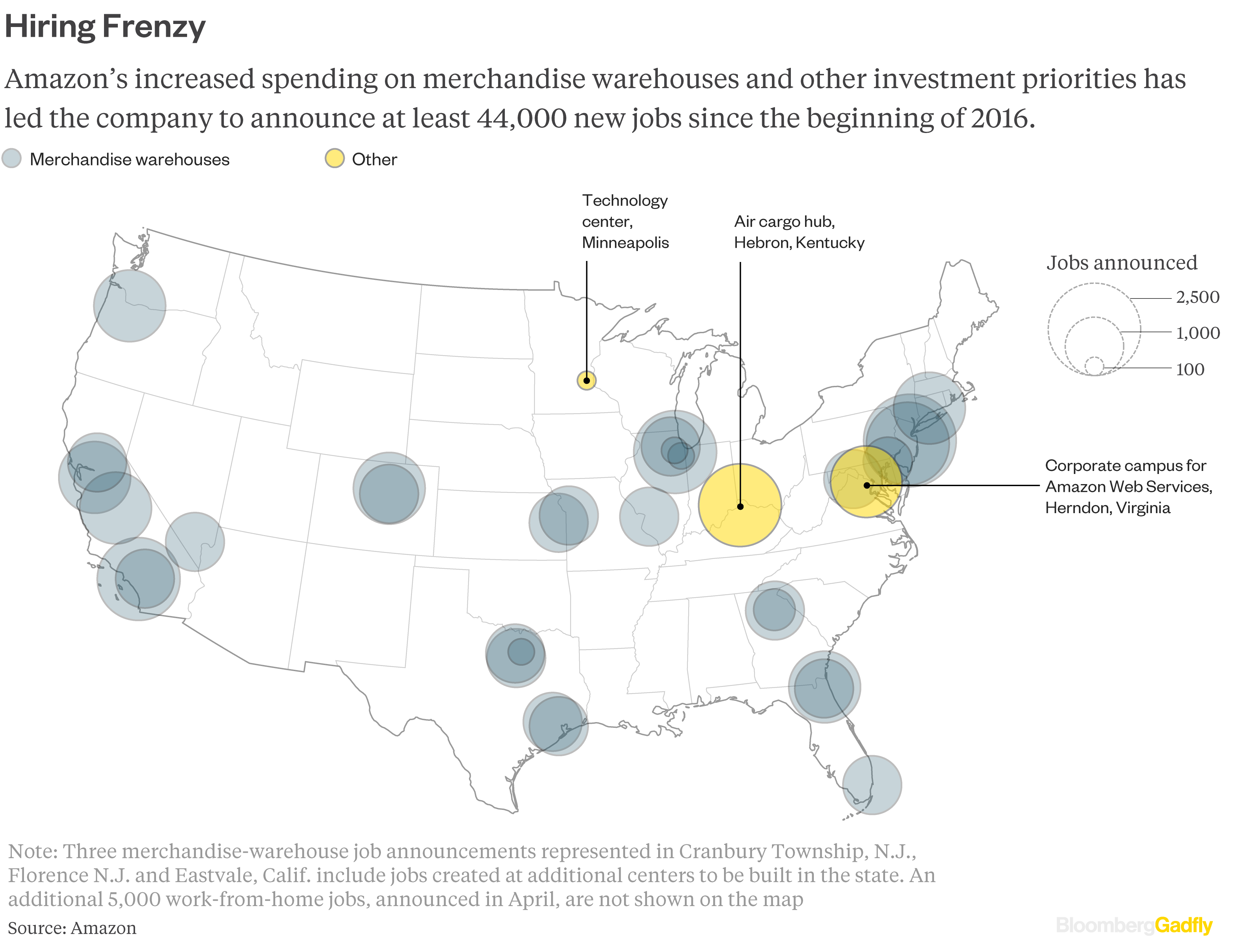 AMAZON.COM INC
-29.42
As of 4:00 PM EDT
There is constant curiosity about how Amazon might harness technology to wipe out jobs for warehouse workers, or perhaps cashier jobs at its experimental convenience store or soon-to-be owned Whole Foods supermarket chain. 
The reality is that for now Amazon requires a growing army of people. The company had 351,000 full and part-time employees as of March 31, more than double the number of workers the company had two years earlier. The increase is far faster than Amazon's 55 percent jump in revenue over the same period. 1 The size of Amazon.com Inc.'s workforce is still dwarfed by the 2.3 million people employed by Walmart at the end of January.
Amazon's hiring spree isn't likely to slow. Since the beginning of 2016, Amazon has made at least 35 separate announcements about opening or expanding package warehouses and other facilities that the company said would lead to the hiring of at least 44,000 people, according to a Bloomberg Gadfly tally from Amazon's disclosures.
Most of those jobs are in the warehouses where people sort, package or ship Amazon deliveries -- what the company calls its "fulfillment centers." Not surprisingly, many of Amazon's new or expanded fulfillment centers are near population centers on the East and West Coasts, Texas and Chicago. 2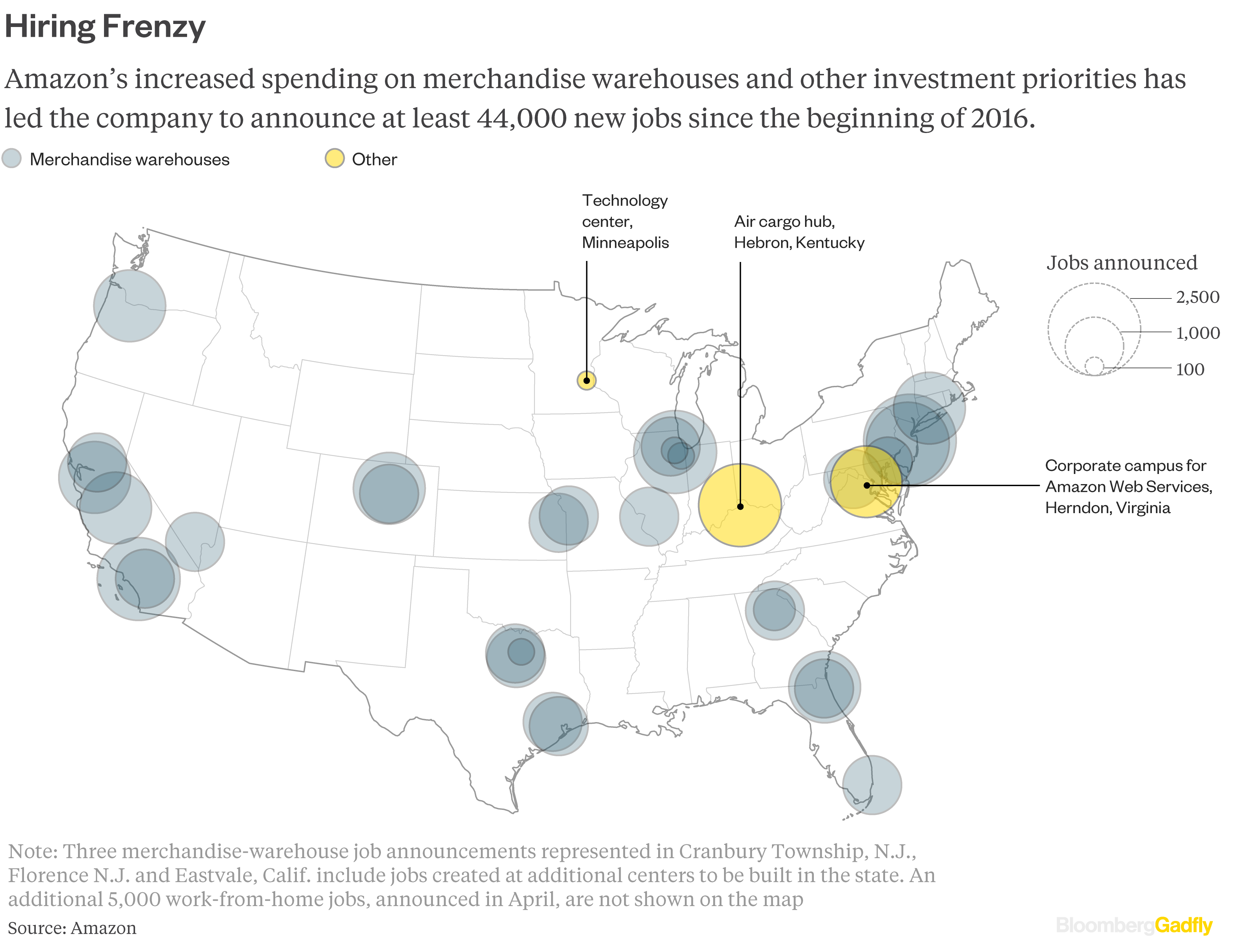 Some of the jobs Amazon has announced are likely already part of Amazon's current employee count, or in the company's politically tinged disclosure in January that it planned to create 100,000 U.S. jobs in the next 18 months. Like a number of companies that have trumpeted their job-creation bona fides to the Trump administration, the Amazon announcement was largely about public relations pizzazz. Amazon's flurry of announcements about new warehouses and hiring is likely less about politics than about the demands of Amazon's growing ambitions.
The company has told investors it is in the middle of one of its periodic spending binges on business initiatives. It is expanding its network of warehouses to handle online orders from Amazon and the third-party merchants who sell on its website. Amazon is also pouring money into its line of voice-activated gadgets, into the video programming available to Prime members and into its expansion in India and other potential growth markets. "There's a lot of investment in front of us," Amazon's chief financial officer told analysts in April. 
All of those ambitions are costly to Amazon and pinch profits. The amount Amazon spends on package warehouses, computer centers and other significant projects nearly doubled in three years. 3  And Amazon's growing spending has made investors tamp down their profit expectations. A year ago, analysts on average expected Amazon to post $7.8 billion in operating profit for 2017, according to data compiled by Bloomberg. 4  Now the average is $5.3 billion. 
The jobs that Amazon creates at its package warehouses and distribution centers tend to be controversial. Cities and municipalities often give Amazon tax breaks or other incentives to open warehouses in their backyards, and there is debate about whether the quality and stability of the jobs Amazon creates are worth it. What is clear, though, is that we humans are still essential for Amazon. The robots haven't won yet. 
-- Dave Merrill assisted with charts.
To contact the author of this story:
Shira Ovide in New York at sovide@bloomberg.net
To contact the editor responsible for this story:
Daniel Niemi at dniemi1@bloomberg.net
Before it's here, it's on the Bloomberg Terminal.
LEARN MORE