Big Chill
Supermarkets Enter Amazon's Deep Freeze
The beaten-up shares may not recover until grocers come up with a clear plan for standing up to their deep-pocketed challenger.
By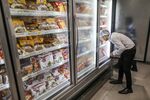 KROGER CO
-0.06
At Closing, April 20st
AMAZON.COM INC
-29.42
At Closing, April 20st
Amazon.com Inc.'s surprise decision to splash $13.7 billion on Whole Foods Market Inc. will undoubtedly be great for consumers. For Whole Foods's rivals? Not so much.
Shares of supermarket operators from Kroger Co. and Wal-Mart Stores Inc. through to smaller peers Sprouts Farmers Market Inc. and Supervalu Inc. all tumbled on Friday:
The widespread losses -- which spread to chains in Canada and Europe -- indicate a realization that with Amazon targeting the grocery business in a big way, an industry already squeezed by price pressures could now be set for major disruption. 
Even before today's plunge, Kroger's stock was in a freefall. It declined nearly 19 percent on Thursday after the company revised its earnings forecast. The supermarket giant admitted that to defend market share, it'd need to invest in both labor to improve customer service as well as price promotions that will crimp its already razor-thin margins. Amazon's purchase of Whole Foods is only going to intensify the competitive stress points -- Credit Suisse analysts have estimated that around 60 percent of Whole Foods locations are within a 10-mile radius of a Kroger store. So it's no wonder the Cincinnati-based grocer has shed roughly $9 billion off its market capitalization in the past two days alone. 
The Whole Foods deal is a victory for investors including activist firm Jana Partners LLC, thanks in part to its lofty price (not that Amazon's Jeff Bezos cares -- plus, shareholder applauding the move added nearly $14 billion to Amazon's market value on Friday). The $42-a-share offering represents a forward price-to-earnings multiple of 32, and it will likely never be topped. (For context, Apollo Global Management paid a P/E multiple of roughly 18.5 for Fresh Market Inc. last year, and may be ruing that deal now that Amazon has made its grand entrance).
Friday's bloodbath has left Whole Foods's organic-focused rival Sprouts trading at a P/E multiple of roughly 20, and Kroger at just 10.5. Such figures are below their historical averages, but investors shouldn't rush to scoop these stocks up until companies come up with a clear and actionable game plan on how to stand up to their deep-pocketed challenger. My bet is that this will happen through consolidation, by heavily investing in their own delivery businesses or both. Sizable potential targets that could shake loose are the U.S. arm of Koninklijke Ahold Delhaize NV and closely-held HEB Grocery, which are ranked fifth and eighth by market share of the U.S. food retail market per Statista. 
Until then, expect short-sellers to pile in. Buyers of grocery chains should beware. 
To contact the author of this story:
Gillian Tan in New York at gtan129@bloomberg.net
To contact the editor responsible for this story:
Beth Williams at bewilliams@bloomberg.net
Before it's here, it's on the Bloomberg Terminal.
LEARN MORE