Robo-Finance
A Sneak Peek at the CFA Fintech Exam
Some multiple-choice fun for the wannabe finance crowd.
By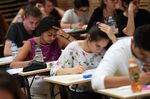 Wannabe bankers and analysts have for years sweated through the CFA Institute exam's multiple-choice questions in the hopes of striking it big in the City or Wall Street. But the qualification seems pretty old hat in a financial world that's more and more in thrall to the machines.
To try to drag itself into the 21st century -- sort of like when Goldman Sachs Group Inc. insists it's a tech company -- the CFA wants to add questions about A.I., crowd-funding and other whizzy fintech topics to the boring traditional stuff about portfolio valuation and cash flow analysis.
So get your digital pens ready, here's a sample of what the questions and answers might look like (at least in my own imagination).
The price of bitcoin has more than doubled in a year, as the chart below shows. Analysts using traditional valuation models are baffled. What do you think is the reason?
A healthy, fundamental improvement in its underlying prospects. Or "buying a dream," as one Japanese saver says.
Hopes for an end to the messy argument over how to rewrite Bitcoin's rules to break a bottleneck in transaction processing. It could "plummet" if there's a deep split, but that's obviously a much more acceptable risk than owning fiat currency.
Rampant speculation, illicit activity and capital flight.
Peter Seal, a venture capitalist, has created a new digital currency via an Initial Coin Offering (ICO). How should you value the token?
As long as you buy quickly enough at a pre-sale discount, it doesn't matter. You'll make money.
Check to see whether the ICO rating agency has graded the offering, then go for the more scientific option of reading comments in chat forums.
Ignore the founder's history, business-model viability and pie-in-sky valuation. Just focus on the technical white paper.
Frank Mogle, a wealth manager, has asked you to estimate when his robo-advisor business will start making money. Which market estimates do you use? 
Robo-advisors in the U.K. spend £180 to acquire a customer in return for revenue of £147.50 annually, not including extra recurring yearly costs of £130. (SCM Direct)
To break even, leading robo-advisory firms would need to boost assets by 8 to 20 times their current level, to somewhere between $16 billion to $40 billion. (Morningstar)
The robo-industry will reach $385 billion in assets by 2021, but that's still about one-fiftieth the size of the broader asset-management industry at the end of 2015. (Cerulli/Aite Group)
Thelonious Hemlock, a blockchain enthusiast, wants only optimistic views on financial applications of distributed ledgers for an investor pitch. What should he steer clear of?
The Bank of Canada paper testing conceptual payment systems on non-Bitcoin blockchains. It found they might not offer net benefits relative to the current centralized model. 
Cornell University Associate Professor Emin Gun Sirer's research on the ways Bitcoin and blockchains can fail. One vulnerability can take down the entire system. The hype is running ahead of reality, he argues.
Gartner Inc.'s view that most enterprise blockchain projects don't actually need blockchain technology; they'd probably be more successful without it.
Bonus round: Why is the CFA asking you these questions? 
Investment management generalists need to know this stuff.
Millennials are shunning finance jobs.
It's a pretty good way to get people to talk about the CFA.
To contact the author of this story:
Lionel Laurent in London at llaurent2@bloomberg.net
To contact the editor responsible for this story:
James Boxell at jboxell@bloomberg.net
Before it's here, it's on the Bloomberg Terminal.
LEARN MORE