Janus-Like
Deutsche Bank's Wonderful Two-Headed World
It's not easy to grow and shrink at the same time.
By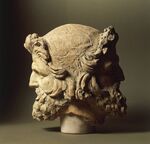 DEUTSCHE BANK AG-REGISTERED
-0.11
At Closing, April 20th
Deutsche Bank CEO John Cryan wants Germany's No. 1 investment bank to be simpler and more efficient but also to win more business from corporate clients. To grow and to shrink, in other words.
That dual ambition probably explains why his new plan entails keeping the business unified but separated among divisional co-chiefs. It won't make it much easier to compete with Wall Street.
Deutsche's new-look investment bank seems to offer the promise of renewed vigor in chasing clients but also more penny-pinching, according to a memo seen by Bloomberg News. The division's two co-heads will carve up the world of corporate clients and financial-markets trading; two more co-chiefs will run a new global capital markets division; two more will run the institutional clients group; two others will run a unit called CIB Central, a hub designed to -- no sniggering -- reduce complexity. Obviously, two co-authors wrote the memo.
Deutsche Bank AG clearly isn't alone in stuffing its biggest business with well-paid bosses who share the same title. Unicredit Spa had three co-heads of investment banking in 2008; Credit Suisse had the same in 2014. Such fudges are meant to avoid bruised egos and silo-building, even if they don't always work.
Cryan can at least claim to have improved the direction of travel at Deutsche, which is trying to draw a line under the legacy of fines and risk-taking left by former co-CEOs Anshu Jain and Juergen Fitschen.
But the new structure shows how he's caught between the need to recover lost ground in investment banking while hitting tougher profit targets. He had initially planned a full split of the business along client lines, with a shrinking trading division carved out from a merged corporate finance and transaction-bank unit. That idea was scrapped in favor of a single entity that would be better able to share expenses and lend more to companies.
The contortions of managing for cost and growth will no doubt affect how all these executive couples get along. Doling out loans to secure client loyalty may make risk-averse executives squirm. Slashing costs, firing staff and ripping out complex IT systems might hinder the rainmakers. Cryan may find himself having to give the casting vote in a lot of internal struggles.
Remember that Wall Street already has a head-start on both market share and slashing cost. Bank of America Corp.'s COO says he relishes the chance to cut headcount even after hitting a $53 billion savings target.
Equally tricky for the German bank is that an industry-wide rebound in trading revenue may be running out of steam. Shares of Deutsche Bank have performed worse than the sector this year, trading at a 55 percent discount to book value -- although some of that is because of its recent $8.6 billion share sale.
Investors will probably look past the reshuffle and take heart from the promise to deliver cuts without harming revenue. But Cryan has to make sure the Janus-like challenge at his investment bank doesn't end up pulling it apart.
To contact the author of this story:
Lionel Laurent in London at llaurent2@bloomberg.net
To contact the editor responsible for this story:
James Boxell at jboxell@bloomberg.net
Before it's here, it's on the Bloomberg Terminal.
LEARN MORE