Getting Sirius
This Pandora Deal Is No Chart-Topper
It keeps fighting a full takeover, but Sirius XM is patiently waiting because it's only going to get cheaper.
By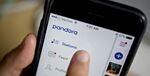 PANDORA MEDIA INC
-0.07
As of 10:20 AM EDT
SIRIUS XM HOLDINGS INC
+0.07
As of 10:21 AM EDT
John Malone finally got his claws into Pandora Media Inc., but there's good news and bad news for shareholders. 
Pandora's stock bounced back Friday from a more than one-year low after the online radio service received a crucial cash investment from Sirius XM Holdings Inc. Sirius, which is controlled by Malone's Liberty Media, is buying $480 million of newly issued series A convertible preferred stock in Pandora, representing a 19 percent stake. It's also getting three board seats, one of which will be Pandora's new chairman. 
The agreement is a positive development, but hardly a resolution of their volatile courtship. On the plus side, Pandora really needed money and it got some. The business burned through $205 million of cash in the 12 months ended in March, as it invested in a new subscription on-demand music product and desperately tried to compete with bigger rivals Spotify Ltd. and Apple Inc. 
Pandora shareholders have been on edge for a year wondering whether Sirius would soon buy them out. During that time, Liberty Media CEO and Sirius XM Chairman Greg Maffei, Malone's business partner, didn't pass up opportunities to publicly taunt them by alternating between flattery and criticism of Pandora's business, often giving the stock whiplash. The main reason Sirius hasn't just taken over Pandora yet is that there's a big gap between what Sirius is willing to pay and what Pandora -- specifically CEO and co-founder Tim Westergren -- is holding out for. That gap hasn't narrowed, and now there's an 18-month standstill in place that prevents Sirius from increasing its position. 
What Westergren doesn't seem to realize is the longer he waits, the cheaper Pandora is likely to get, which will only give Malone's side more bargaining power. Sirius reportedly offered $15 a share in 2016, which Pandora turned down. In March, after the stock had weakened, Maffei said he'd do a deal at $10 but that Pandora wouldn't. CNBC reported Friday that Sirius recently offered just $8 a share for the entire company in what would be a take-under. Of course Pandora rejected it, and so here we are today with a transaction that's less than ideal for its shareholders. Meanwhile, Sirius gets stock convertible at $10.50 a share and a juicy 6 percent cumulative dividend, and has now wedged its way into the boardroom.
Oh and remember KKR & Co.? As part of this deal, Pandora canceled what would have been an investment from KKR and is instead paying the private equity firm a $22.5 million termination fee for its trouble.
Aside from Pandora's precipitous decline in value this year, there's also the question of what will happen to that new on-demand product it's putting all this money and hope into. Maffei and Sirius have been clear that they aren't a fan of it and see far more value in Pandora's free, ad-supported digital-radio service. That's also a better fit with Sirius's satellite-radio business than a subscription-based model would be. Adding to the uncertainty around Pandora's efforts on this front is that its chief technology officer "decided to move on from Pandora" in May, just weeks after the new service was launched.
If you thought Sirius's investment was a sign that they were getting on board with the new direction, Maffei's brief remarks in Friday's press release seem to suggest otherwise. Notice he specifically calls out Pandora's legacy business model:
Liberty Media has long recognized the strength of the Pandora brand and the opportunities in the ad-supported digital radio market.
So what did Pandora shareholders really get this week? They learned Sirius lowered its offer price. They get to see Pandora management throw more money at an uncertain strategy. And they get to wait 18 more months for a potential full takeover or to see if the Sirius folks pull a different stunt. Sure seems like Malone, Maffei and KKR are the winners here, but they are the deal pros and Pandora has proven anything but.
To contact the author of this story:
Tara Lachapelle in New York at tlachapelle@bloomberg.net
To contact the editor responsible for this story:
Beth Williams at bewilliams@bloomberg.net
Before it's here, it's on the Bloomberg Terminal.
LEARN MORE